The sinking feeling over Indian navy
GENEVA :
Bahrain accused Iran on Thursday of fomenting deadly violence in the kingdom, and a Tehran official accused the island state of torturing and imprisoning its critics.
The clash at the UN Human Rights Council came after three policemen were killed on Monday by a bomb at a protest in Daih, west of the capital Manama, during a procession of mourners for a man who died in custody last week.
"This is terrorism. Premeditated. Pure and simple," Bahrain's Foreign Minister Sheikh Khalid Bin Ahmed al-Khalifa told the Geneva forum, adding that 11 were injured in the incident.
Iran denies having links to Bahrain's opposition but does champion its cause. "The violence we see in Bahrain is directly supported by elements of the Islamic Republic of Iran," Khalifa said.
Khalifa called on Iran to "respect the principles of non-intervention, peaceful coexistence and good neighbourliness enshrined in the UN Charter".
Bahrain had always sought friendship with the Islamic Republic and continues to act in good faith, he said. "But we will not tolerate any foreign actor to compromise our security and stability
."
http://www.nation.com.pk/international/07-Mar-2014/the-sinking-feeling-over-indian-navy
Naval inquiry: 'Human error' led to INS Sindhuratna fire
New Delhi
:
The preliminary inquiry report on the INS Sindhuratna tragedy stated that a 'human error' led to the fire on the submarine. Reportedly, the probe mentions a deviation from standard operating procedure.
According to media, the report had revealed that fire in some cables led to the smoke in the third compartment. Earlier it was said that the smoke was caused by faulty batteries.
Reportedly, the Naval inquiry stated mishaps are a result of disorganisation.
Two sailors died and seven members of the 94-strong crew were evacuated after inhaling smoke aboard the diesel-powered INS Sindhuratna.
After the mishap, Admiral D K Joshi had resigned as Navy Chief taking 'moral responsibility'.
In his resignation letter, Joshi said though the government continued to repose faith is his capabilities, it was becoming untenable for him to continue as the head of the maritime force in terms of accountability.
TRAINING QUESTIONED
Defense analysts said submarine crew members in the Indian navy were not getting enough training on one type of vessel before moving to another, increasing risks that minor incidents could have fatal consequences.
"It's a very ominous situation to be in," said Uday Bhaskar, a fellow at Delhi's National Maritime Foundation. "The Indian navy is going through a blighted phase."
Handling a ship comes with experience and young officers weren't getting the time needed on smaller vessels before moving onto bigger ones, said Bharat Karnad, a senior fellow of national security studies at the Centre for Policy Research.
"You're beginning to see a trend and it's not a happy situation," said Rajeswari Pillai Rajagopalan, senior fellow at the Observer Research Foundation.
India has been operating submarines for decades, their numbers are dwindling with delays in procurement since the turn of the century, Rajagopalan noted.
Older submarines were being retired without being replaced with new ones, and the top political leadership had washed its hands off the matter, she said.
India's navy has had far fewer accidents than the air force, which has been dogged for years by crashes of Russian-made MiG-21 fighters.
However, most of the country's fleet of more than a dozen submarines is in urgent need of modernization. Efforts to build a domestic arms industry have meanwhile made slow progress, with India still the world's largest weapons importer.
The INS Sindhuratna, a Soviet-built Kilo class vessel, was commissioned in 1988.http://www.deccanchronicle.com/140307/nation-current-affairs/article/naval-inquiry-%E2%80%98human-error%E2%80%99-led-ins-sindhuratna-fire
Indian-American's company to develop zero pressure tyre for US army
WASHINGTON:
An Indian-American owned engineering firm is developing zero pressure tyre for the
US military
, which would change the dynamics of not only war but also the auto industry.
Akron, Ohio-based
American Engineering Group
(AEG), has received a USD 1 million Phase-II project grant from the US
Department of Defense
to develop tyres that will continue running even after being shredded by roadside bombs or gunfire, a media release said yesterday.
Though military vehicle tyres are now equipped with run- flat inserts, the defence department wants to upgrade to a zero pressure tyre that's better at carrying heavier loads and can quickly move soldiers out of harm's way, it added.
Zero pressure tyres have been around for a long time, with major drawbacks such as bumpy rides and overheating.
The AEG prototype dissipates heat and has the tyre flexibility and strength to support the heavy military pick-up weight while providing a relatively smooth ride.
"AEG's motivation and driving force for this project are that AEG gets the privilege to be of help to save lives of our soldiers," said its owner
Abraham Pannikottu
.
Abraham has a mechanical engineering degree from Sardar Vallabhbhai National Institute of Technology (Surat, Gujarat). He later completed graduate studies in polymer science at the University of Akron. He has written several research articles on engineering applications of rubber.
His group is also working on new innovative product such as US National Football League Helmet and Implantable Cost-effective Titanium Hip & Knee.
In 2006, Pentagon honored Pannikottu & his group for designing an airless tyre for the Stryker armored vehicle. This award was for exceptional performance that exemplifies the goal of bringing innovative technologies to the soldier.
The company has patents pending for the Zero Pressure tyre technology.
As for commercial applications of the zero pressure design for run-flat tyres, AEG is focusing its current efforts on the pick-up truck.
However, this technology eventually could be used on all- terrain vehicles, as well as mining and construction vehicles, the media release said.
Though military vehicles outfitted with "run-flat" tyres are supposed to travel at least 30 mph for 30 miles (the minimum DOD requirement), field performance of current run-flat tyres hit by roadside bombs were reported to be much lower than this minimum requirement.
The new AEG Zero Pressure Tyre will withstand a minimum of 50 mph speeds for 300 miles once it's punctured based on results from Phase I completed studies in 2011, the statement said.
"This level of load carrying capability and survivability surprised even me," says Jon Gerhardt, one of the designers.http://timesofindia.indiatimes.com/topic/American-Engineering-Group
Retired armyman beaten to death by son
ALLAHABAD:
Seventy-two-year-old retired army man Omkar Thapa was allegedly beaten to death by his son at Gayasuddinpur locality under
Dhoomanganj police
station on Thursday.
Following the incident, the police registered a case under Section 304 of the IPC but claimed that it was an unintentional murder. The accused identified as Dilip Thapa was on the run.
Additional SP, Civil Lines, Neeraj Pandey said that a manhunt had been launched for Dilip. He further said that Omkar retired from Indian Army in 1985 and was staying with his family, including wife and two sons, at Gayaduddinpur area.
He added that Dilip too was in the army but had left the job a couple of years back. He was an addict and often brawled with his father over petty issues. Pandey further said that a brawl between the father-son duo on Wednesday night led to Omkar's death. When Dilip came to know of the death, he escaped from the house.
Omkar's second son Deepak lodged an FIR with Dhoomanganj police regarding the incident.http://timesofindia.indiatimes.com/city/allahabad/Retired-armyman-beaten-to-death-by-son/articleshow/31580380.cms
Indian Air Force recruiting commissioned officers 2014
Indian Air Force (IAF) has invited applications from Female candidates for grant of Short Service Commission and from male candidates for grant of Permanent/ Short Service Commission in Meteorology Branch. Interested and eligible candidates have to send in their job applications before March 21, 2014.
1.Commissioned Female Officer
2.Commissioned Male Officers
Department: Meteorology Branch
Permanent Commission: The selected candidates will continue to serve till the age of superannuation.
Short Service Commission: The selected candidates will initially serve for a period of ten years which can be extended if required.
The applicant should be between 20 to 25 years of age as on January 1, 2015. the candidate should be hold a Post-Graduate Degree in any Science stream/ Mathematics/ Statistics/ Geography/ Computer Applications/ Environmental Science/ Applied Physics/ Oceanography/ Meteorology/ Agricultural Meteorology/ Ecology & Environment/ Geo-physics/ Environmental Biology.
The candidates will be selected for the post on the basis of their performance in Screening Test, Psychological Test, Group Tests and Interview. Also the candidate has to fulfill the prescribed physical standards to be considered for recruitment.
Interested and eligible candidates are required to send in their applications along with copies of all relevant documents/ certificates, two recent passport size colored photos and a stamped self-addressed envelope to Post Bag No. 001, Nirman Bhawan Post Office, New Delhi -110106
For further details Indian Air Force's official website: http://indianairforce.nic.in/
Last date for receipt of applications: March 21, 2014
Yet Another Navy Ship Mishap, One Commander Dies
Indian Navy was hit by yet another mishap today with gas leakage taking place on a ship in Mazagaon Dock Limited (MDL) in Mumbai, leading to the death of a Commander-rank officer and hospitalisation of some others.
INS Kolkata-class destroyer ship Yard-701, being built by the MDL, suffered malfunction in its Carbon Dioxide unit while undergoing machinery trials, leading to gas leakage, sources said.
One Navy commander died and some others were taken ill and hospitalised in today's incident.
The mishap took place just more than a week after fire and smoke incident on INS Sindhuratna off the Mumbai coast, in which two officers lost their lives and seven sailors were taken ill.
This is the 12th mishap involving Navy's assets over the last seven months.
The biggest mishap occurred when the INS Sindhurakshak sank inside the Mumbai harbour killing all 18 personnel on board on August 14.
Earlier this month, INS Airavat, an amphibious?warfare vessel, ran aground after which the commanding officer was stripped of his command duties.
After the sinking of the INS Sindhurakshak, one of the mishaps involved INS Betwa which was damaged after probably hitting some underwater object.
India's leading minesweeper, the INS Konkan that was undergoing repairs in Vizag, also caught fire and suffered major damage to its interiors.?The Pondicherry-class minesweeper was getting a refit at a dry dock when the incident occurred.
After the Sindhuratna incident on February 26, Navy Chief Admiral D K Joshi resigned taking "moral responsibility" over the spate of mishaps involving naval warships.
Also Read: click on heading below and then the link
The Armed Forces Special Powers Act: A brief history
INDIA - 1965: Indian troops during a period
of armed conflict with Pakistan over
control of disputed Kashmir
The battle against the Armed Forces Special Powers Act is a long, bitter one. On August 15, 1942, Lord Linlithgow, the viceroy of India, promulgated the Armed Forces Special Powers (Ordinance) to suppress the Quit India Movement launched by Mahatama Gandhi a week earlier. Gandhi, Jawaharlal Nehru and most leaders of the Indian National Congress were imprisoned. Indian protesters targeted and burned down police offices and railway and telegraph lines, which the British saw as designed to hamper the war effort against an impending Japanese invasion on the Burmese front. Linlithgow responded with violence: 2,500 were killed in police shootings on Indian protesters, tens of thousands were arrested, rebellious villages were torched, and protesters were flogged and tortured.
In August 1947, freedom from British rule and the birth of India and Pakistan were accompanied with genocidal violence and the mass migration of Hindus and Sikhs from Pakistan and of Muslims from India. A few years into Indian independence, Jawaharlal Nehru, the first prime minister, faced his first insurgency in Naga districts of Assam, along the Burmese border. Baptist missionaries had converted a majority of the Nagas to Christianity and an educated leadership had emerged in the form of the Naga National Council. In the meetings between the Naga and the Indian leadership, Gandhi theoretically considered the possibility of Naga independence, but Nehru vehemently rejected the idea and offered the Nagas autonomy within India.
In 1954, the Nagas began an insurgency for independence. India responded by sending in thousands of Indian army soldiers and paramilitary men from the Assam Rifles to crush the rebellion. An intense cycle of violence followed. To further arm his counterinsurgents and provide them with legal protection, Nehru's government passed the Armed Forces Special Powers Act (1958) in the Indian parliament. Very few lawmakers spoke in opposition to the law. "We want a free India. But, we do not want a free India with barbed wires and concentration camps, where havaldars (sergeants) can shoot at sight any man," Surendra Mohanty, a dissident member of the parliament from Orissa, told the house.
Now, Prime Minister Nehru echoed Churchill and Linlithgow as they had set about crushing the Quit India Movement with violence and legal protections of the Armed Forces Special Powers Ordinance. "No infirm government can function anywhere. Where there is violence, it has to be dealt with by government, whatever the reason for it may be," Nehru told the Indian parliament. And Nehru's soldiers in Nagaland mirrored the ruthlessness of the British forces in India. "The stories of burned rice stores and houses seemed endless," wrote Gavin Young, a reporter for The Observer, who traveled throughout Nagaland in 1961. "Individuals told how they had been beaten and tied up for hours without water; how they had been bound and hung downwards from beams to be flogged; how sons, brothers and fathers had been bayoneted to death."
The discontent in the borderlands of Nehru's India wasn't limited to the Naga areas. Signs of trouble and disillusionment with being ruled by a bureaucrat from New Delhi were growing in the former princely state of Manipur, which had merged with India in 1949. In 1964, the year of Nehru's death, a separatist militant group seeking independence from India, the United National Liberation Front, was formed in Manipur. India reacted to the centrifugal force by granting statehood to Manipur in 1972, which brought an elected local government and greater financial resources.
A few years later, inspired by Maoist ideas, some Manipuri rebels traveled to Lhasa and, with Chinese support, formed an insurgent group, the People's Liberation Army, which sought Manipuri independence. Several smaller insurgent groups came into being. The number of persons killed in acts of violence went up from two in 1978 to 51 in 1981, according to the South Asian Terrorism Portal. India responded by declaring Manipur a "disturbed area" and imposed the Armed Forces Special Powers Act in late 1980. A brutal cycle of insurgency and counterinsurgency has continued ever since, claiming several thousand lives. http://america.aljazeera.com/articles/2014/3/8/armed-forces-specialpowersactabriefhistory.html
HC stays army golf club's decision to bar civilian members
Sanjeev Verma, Hindustan Times
CHANDIGARH, March 06, 2014
The Punjab and Haryana high court has stayed the orders of the Army Golf Club, Kharga Environmental Park and Training Area (KEPTA) in Ambala Cantonment, which bars its permanent civilian members from entering the club premises by restricting them to the golf course only.Taking up a petition filed by 22 civilian permanent members of the golf club, including 2002 Asian Games player Manav Das of Ambala Cantonment, justice Ritu Bahri stayed the orders converting status of these members from "permanent civilian members" to "civilian golfers (with) playing privileges only" issued on August 2 last year.
The court issued notices of motion to Kharga Environmental Park and Training Area, Central government; general officer commanding of headquarters, Western Command, Chandimandir; and general officer commanding of 2 Corps.
Earlier maintained by The Sirhind Club, Ambala, Kharga Golf Club came under the management of the army in 1972 and started granting membership to civilians.
Appearing for the petitioners, senior advocate Puneet Bali argued that Kharga Golf Club authorities had passed such orders arbitrarily even when the petitioners were permanent members of the club for the past decade.
He submitted that the petitioners had never violated any terms of the bylaws or defaulted on account of disobedience or of non-payment of monthly subscription etc.
The counsel submitted that as per the new bylaws, petitioners have been put in the category where they only have playing rights and cannot use club facilities.
Also, playing rights do not include reciprocal membership of other clubs affiliated with KEPTA like Chandimandir Golf Club and playing rights do not include participation in tour naments organised by other clubs as member of Kharga Environmental Park and Training Area.
Bali added that after scrutiny by the Comptroller and Auditor General ( CAG) of India, it emerged that the golf club authorities were grossly misusing the revenue earned from offering memberships to civilians and not crediting the same to the government account.
In the light of these facts and the sole objective to divert the objections raised by Comptroller and Auditor Genera , the authorities rechristened all the Army Golf Clubs as Army Environmental Parks and Training Areas.
Alleging bias against civilian members, the petitioners submitted that rights of civilian members have been restricted despite the fact that they were paying security charges and monthly subscription much more than their army counterparts and other serving officers.http://www.hindustantimes.com/punjab/chandigarh/hc-stays-army-golf-club-s-decision-to-bar-civilian-members/article1-1191551.aspx
Notice to AFT, govt on denying pension
The Punjab and Haryana high court on Thursday issued a notice of motion to the union government and the Chandigarh bench of the Armed Forces Tribunal (AFT) on a challenge to an order denying complete arrears to defence pensioners.Deciding on a bunch of 53 petitions, the tribunal had held that retired soldiers would get the enhanced-pension arrears of only six months and not counting from January 1, 1996. The petition in the high court is filed through All-India Ex-Servicemen Welfare Association (AIEWA) chairman Bhim Sen Sehgal.
The case
The issue concerns a fifth Central Pay Commission case where an anomaly was removed in 1997 but the anomaly-free scales of 1997 were, later, given with effect from not 1996 but prospectively.
The Punjab and Haryana high court had decided that the pension would be granted from the date of the inception of the anomaly, a verdict upheld in the Supreme Court in 2010. The government, later, extended the benefit to all pensioners but only with effect from July 2009.
For getting the arrears from January 1, 1996, soldiers approached the AFT, where a bench comprising justice Rajesh Chandra and lieutenant general NS Brar (retd) held that it could award arrears for only six months, resulting in zero benefit to the pensioners.
The judgment is challenged on the ground that the AFT Act prescribes limitation of six months for approaching the AFT with regard to in-service matters such as promotions and no limitation can be imposed on retiral benefits based on existing general directions, as held by the constitutional courts.
Notice to AFT, govt on denying pension
The Punjab and Haryana high court on Thursday issued a notice of motion to the union government and the Chandigarh bench of the Armed Forces Tribunal (AFT) on a challenge to an order denying complete arrears to defence pensioners.Deciding on a bunch of 53 petitions, the tribunal had held that retired soldiers would get the enhanced-pension arrears of only six months and not counting from January 1, 1996. The petition in the high court is filed through All-India Ex-Servicemen Welfare Association (AIEWA) chairman Bhim Sen Sehgal.
The case
The issue concerns a fifth Central Pay Commission case where an anomaly was removed in 1997 but the anomaly-free scales of 1997 were, later, given with effect from not 1996 but prospectively.
The Punjab and Haryana high court had decided that the pension would be granted from the date of the inception of the anomaly, a verdict upheld in the Supreme Court in 2010. The government, later, extended the benefit to all pensioners but only with effect from July 2009.
For getting the arrears from January 1, 1996, soldiers approached the AFT, where a bench comprising justice Rajesh Chandra and lieutenant general NS Brar (retd) held that it could award arrears for only six months, resulting in zero benefit to the pensioners.
The judgment is challenged on the ground that the AFT Act prescribes limitation of six months for approaching the AFT with regard to in-service matters such as promotions and no limitation can be imposed on retiral benefits based on existing general directions, as held by the constitutional courts.
Navy takes a hit again; Commander dies in gas leak aboard INS Kolkata
Tribune News Service
Mumbai/New Delhi, March 7
A Commander (Lt Col equivalent) of the Navy died in an accident on board under-trial Kolkata-class warship INS Kolkata today while four civilian employees of the Mazagon Docks Limited were injured. The mishap occurred around 12.45 pm.
There was carbon dioxide leak on the warship. The gas is used as a fire retardant. As soon as the gas leak was noticed, Commander Kunal Wadhwa (42), a 1997-batch officer, and others tried to escape. Wadhwa reportedly fell into the engine as inhaling of carbon dioxide had rendered him unconscious.
Naval officials have not so far confirmed reports that the gas leak may have been caused due to an explosion. "Yard-701 (as INS Kolkata is known prior to its commissioning) had a malfunction, leading to gas leakage. One naval officer and some MDL personnel have been hospitalised," the Navy said in a statement earlier in the day. The officer subsequently succumbed to his injuries.
An injured MDL employee has been identified as Aslam Kazi, 51. He is admitted to the ICU of a private hospital.
The accident has raised questions on the quality of material being used for building warships. MDL spokesperson Parvez Panthaky said, "During machinery trials, a malfunction in warship's carbon dioxide unit lead to gas leakage."
http://www.tribuneindia.com/2014/20140308/main2.htm


Several Indian and British historians have claimed that the 282 soldiers, whose remains were dug out from 'Kalianwala Khu' in Ajnala, were not Sikhs and belonged to Bengal or Awadh.
Historians such as Mahatma Gandhi's grandson Rajmohan Gandhi stated in his book 'Punjab: A History from Aurangzeb to Mountbatten' that some top British officers disapproved of the August 1, 1857 killings. They even termed these as 'Ajnala cruelties'.
The authors claim the killings were a result of the British policy of keeping Sikh and Punjabi Muslim soldiers in confidence, while disarming the 'Hindustani soldiers'. Correspondence between the British officers reveals that they used the mutual hatred of Sikhs and Punjabi Muslims for the soldiers from the eastern states, whose natives were called 'purbias'.
Though later Punjabis (including Sikhs, Muslims and Hindus) and Bengalis together spearheaded the freedom struggle, the British cleverly did not allow them to unite in the 1857 uprising.
British author Bossworth Smith's biography of then Punjab Governor John Lawrence and Fredrick Cooper's book, 'Crisis in the Punjab', state that Cooper, who was the then Deputy Commissioner of Amritsar, bragged about the killings. This had shocked Lawrence.
Gandhi states, "After chasing and capturing 303 out of 400 or so disarmed Hindustani sepoys, who had escaped the previous day from their Lahore internment, Cooper had them shot, in batches of 10 in Ajnala near Amritsar. After 237 bodies were dumped into a well, Cooper ordered his Sikh and Muslim police personnel to produce the remaining 66 prisoners."
Gandhi further writes that only 21 of the remaining soldiers that were locked into a small room were brought by the police. The rest had suffocated to death.
Cooper sent a report of the proceedings to Lawrence, who called the incident 'nauseous'. Cooper, however, was proud of the fact that "a single Anglo-Saxon supported by a section of Asiatics had coldly presided over so memorable an execution".
The incident
The historians claim the remains of the 282 soldiers found from 'Kalianawala Khu' are of Bengalis
They say the British used the mutual hatred of Sikhs and Punjabi Muslims for the soldiers from the eastern states against the latter
Fredrick Cooper, who was the then Deputy Commissioner of Amritsar, had ordered his Sikh and Muslim police personnel to capture the escaped 'Hindustani sepoys'
Historians estimated the number of the deceased to be 282. In the recent excavation, the remains of 282 soldiers were found. This indicates that the 21 soldiers fetched were probably spared.

Gandhi puts the Ajnala killings and other incidents into perspective. He writes that the British were wary of the Sikhs, and Lawrence was aware of the Sikh soldiers' disdain for the 'Hindustanis' (who were part of the British troops that ended Maharaja Ranjit Singh's rule).

Smith in his book, 'Life of Lord Lawrence', states that Lawrence exploited these elements. "There was the hatred of the Sikh for the Mohammedan, who had persecuted him. The Punjabi, whatever his caste or creed, were contemptuous of the less manly races of Bengal," Smith said.

Therefore, the British raised a new regiment, the 25th Punjabi, on June 8, 1857. It comprised of Punjabi Muslims, Sikhs and Hindu Dogras. Lawrnece wrote to Brigadier Sydeny Cotton on June 10, 1857 to form a regiment of 10 companies in which four would be of Sikhs, two of hill Rajputs, two of Punjabi Muslims and two of Pathans. These were then distanced from the soldiers from the eastern states and effectively used against them.

CHANDIGARH:

Former Chief Minister Capt Amarinder Singh today said a temple and not a gurdwara should be built in memory of the soldiers buried in the 'Kalianwala Khu' in Ajnala. He said most of the soldiers killed belonged to the 26th Bengal Native Infantry and were from the Brahmin community of the Awadh region of Central India. Capt said in keeping with their religion a temple should be built there. He said a small memorial should also be raised by the Army. "In my opinion, the Army should perform their last rites because they belonged to the defence forces. This battalion was based in Mian Mir and had revolted against the British in 1857, recognised by the Army as the first battle of Independence." On February 10, 1946, the battalion led the battle against Sham Singh Attariwala in the battle of Sabroan. He said Brigadier Ashburnahm had led the 26th Native Infantry in the battle in which Attariwal was killed. Capt said he had mentioned this in his book, 'The Last Sunset'. — TNS

A well of history

Lay Ajnala heroes to rest with dignity, not outrage

P

AST

has its ways of showing up in the present, often bringing with it the horrors, mysteries and even glory that have long lain forgotten. The mounds of skeletal remains - some of them quite intact - that have been dug out of a well in Ajnala have done just that. The execution of 282 Indian soldiers by shooting squads on orders of the then British Deputy Commissioner is a recorded fact of history, but the distance in time had put it out of active memory. Standing amidst the well in which the remains lay buried for 156 years, anyone would be overwhelmed by the very weight of the outrageous colonial act.

Emotions running high as they are, there are suggestions that the remains be displayed for posterity to see what the British did. History is a great vault of the shameful as well as glorious. But it cannot be allowed to vitiate our future. Innumerable excesses were committed by the British during the Raj. However, today that is not what defines Indo-British ties. The British Crown as well as the Prime Minister have expressed regret at the Jallianwala Bagh massacre. As for what to do with the remains dug out at the initiative of the gurdwara on the premises of which the well is, it is time experts in history, archaeology, culture and other related fields are brought in. In fact, that is something on which the state and Central governments should have taken an initiative right at the start of the digging.

Now that a gruesome chapter of history has been brought before us virtually in flesh and blood, it would be in order to honour the sacrifice of the 'Native soldiery' with a suitable memorial. Again, expert inputs would be essential to do it with due dignity. Over the ages, India has collected a huge history of bloody power struggles, suffering, sacrifice and heroic patriotism. We need to bring on record as much of it as possible. Partition was one such chapter. Wherever we have records, those should be properly organised and made accessible to the public. The dead deserve to be counted.

Armed forces and governance

Indian military knows and honours its place in a democracy




Kuldip Nayar
ANOTHER Lok Sabha, 15th in the series, has concluded its five-year tenure. Whatever business that was transacted in the House was, indeed, exasperating and raucous. Unfortunately, the House representing the democratic system has fallen by the wayside practically in all Asian countries.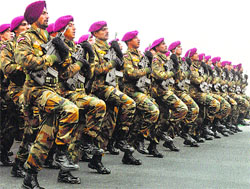 In the coming days the Indian voters will once again queue up before the polling booths to elect their representatives. Their quality has been found wanting. But I am confident that the next House will be better in content because the emergence of the Aam Aadmi Party (AAP) has changed the political scenario in the country to make it cleaner and transparent.
Yet I do not like the increasing influence of the armed forces. Defence Minister A.K. Antony was correct in saying that there can never be an Army coup in the country. India's first Prime Minister Jawaharlal Nehru too echoed the same thoughts when he opted for the parliamentary way of governance after Independence in August 1947. His argument was that the country was too large and too caste and religion ridden.
My worry, however, is over the say which the armed forces are beginning to have in the affairs of governance. Take the stationing of troops at the Siachen glacier. Was it necessary when several retired top brass said that it had no strategic importance? Even otherwise, when an agreement had been initialled by the foreign secretaries of India and Pakistan, our armed forces should have followed the decision but they had it stalled. Instead of being a no-man territory the soldiers of both countries at the glacier are suffering due to the inclement weather and losing men at regular intervals.
Take another example of the Armed Forces (Special Powers) Act (AFSPA) which empowers the Army to detain or even kill a person on suspicion without any legal action. The Northeast has been under it for years. A government-appointed committee found it "unnecessary" and recommended its withdrawal. But the armed forces have had their way and the AFSPA continues to be in operation.
Jammu and Kashmir Chief Minister Omar Abdullah has officially asked New Delhi to free the state from the law's application. He has made the appeal even publicly. But the Central government has not relented because the armed forces want the AFSPA to continue. Even a marginal concession of releasing the political prisoners as requested by the Jammu and Kashmir Chief Minister has been denied.
More recent is the inquiry into the "encounter" at Pathribal in Jammu and Kashmir. The Army is alleged to have killed five "terrorists", while the local villagers have said that the deceased were innocent. The Central Bureau of Investigation (CBI) inquired into the matter and has submitted its report before the Supreme Court. According to the report, it was a cold-blooded fake encounter.
In fact, breaking his silence after 23 years the then Kupwara Deputy Commissioner, S.M. Yasin, said recently that he had been threatened and offered promotions to change his report on the alleged mass rapes in Konam Poshpora in February 1991. It is strange that the Army has claimed that there was no such incident. The self-acquittal by the top brass has only aggravated the sense of alienation and resentment among the people in Jammu and Kashmir. The Government of India should still set up a judicial inquiry headed by a Supreme Court judge to investigate what are perceived as fake encounters.
Hardly has the dust settled down on the Pathribal encounter when the story of a possible coup in January 2012 has become public. Two Army units-one of which was an armoured battalion moved to Delhi from Agra. Any movement of troops in the periphery of the Capital has to be with the prior permission. Still both units moved and were withdrawn only when the Defence Secretary summoned the Director General of Military Operations, Lt. Gen. A.K. Choudhary, at midnight and conveyed him that the top in the government was very unhappy and concerned.
When a daily newspaper broke the story at that time, Defence Minister A.K. Antony rubbished it. So did some key army and civilian officials. Now Lt. Gen. A.K. Choudhary, after his retirement, has confirmed the story. More shocking is the confirmation by Air Chief N.A.K. Browne, then heading the Air Force. He has said: "The paratroopers were being moved to check out the possibility of their marrying with the C130 at Hindon air base, near Delhi".
Still the Defence Minister has said that it was "a routine training exercise." When after telling the Director General of Military Operations, the government sends a chopper to check if the troops were on their way back, there is more than what meets the eye. Since the date synchronised with the appeal to the Supreme Court by the then Army Chief V.K. Singh's on his birth date, the movement of the military units was given importance beyond proportions.
The entire matter has to be examined further by a team of top retired civil and military officials to reach the bottom of the "routine exercise." It cannot be left at the mere denial stage despite Defence Minister Antony's vehement denial. Even a limited say of the armed forces in civilian matters is ominous.
That the armed forces are apolitical is a tribute to their training and conviction when both Pakistan and Bangladesh have swerved from the right path. The other two countries in the subcontinent have had a similar training. Still they threw out the elected governments. Even today when the troops have gone back to the barracks, one cannot underestimate the importance of the military.
The Indian military knows and honours its place in a democratic polity. Still the examples I have given should serve as a grim warning. True, the democratic temperament has got implanted on Indian soil. But this cannot be taken for granted. Even a small example of Bonapartism should be probed thoroughly. The armed forces are for the country's defence and the decision to use them rests with the elected government. This is something basic and no comprise can be made in a democratic structure.
Genesis of Army coup syndrome
Lieut-Gen (retd) Baljit Singh
AS a military leader, Major-Gen KS Thimayya, DSO, had emerged shoulders above his contemporaries, post the 1947-48 Indo-Pak war in the J&K theatre. This measure of Timmy was further bolstered when the international community unequivocally applauded his deft handling of the acrimonious POW repatriation on the Korean peninsula. Prime Minister Nehru was so impressed by the calibre of the General that in personal interaction the PM addressed him as Timmy, always.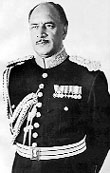 Gen KS Thimayya
So the day he was elevated to the post of Chief of the Army Staff, Mr Nehru broke with convention and unannounced walked into the COAS office to congratulate his friend. So taken aback was the Army Chief that he remained transfixed to his chair even as the Prime Minister walked right up to him. Without ado, Mr Nehru shook hands and taking the visitor's chair launched into a convivial conversation with the utterance "won't you offer me a cigarette, Timmy?"
We learnt of this episode some twenty years later at a mutual friend's home from Ammie, including a few indiscreet words uttered in innocent banter by Timmy. Now Ammie was the lively, petite and charming younger sister of the Chief. She had been married to a bureaucrat from the Indian Civil Service and was widowed during a cloudburst when holidaying with their two children, up in the Kullu valley in the 1950s. Mr Nehru was quick to redress the tragedy and asked Timmy whether Ammie would accept the role of a personal assistant in the PM's household. In the event, she was assigned responsibility of the PM's wardrobe, provided suitable quarters on the premises and would become a permanent fixture on the PM's staff during foreign visits, also. Ammie was in a sense "adopted" by the Nehru-Gandhis, ultimately becoming a mentor and companion of Priyanka and Rahul during their days of cloistered childhood. Mrs Indira Gandhi would often seek out Ammie for a relaxed drink in the evening and even decades later, a car would pick her on most Sundays to lunch with the children.
However, Ammie was sad to recall that "Panditji" (as she referred to Mr Nehru, always) had taken to heart Timmy's indiscreet banter during Mr Nehru's unprecedented "call" on the Chief's office. She elaborated that by the side of Timmy's office table was a steel chest of draws and Mr Nehru in the mood of bonhomie inquired, "Is that a treasure chest, Timmy?" The Chief stated that in the upper drawer were operational plans pertaining to the Western and Northern boarders. To the PM's next interjection, "And the second drawer", the Chief stated that it contained dossiers of a few Generals which the PM would need, to pick his successor. Persisting with child-like curiosity, Mr Nehru shot back: "And the last drawer?"
Not one to be put down in a repartee and with a mischievous smile, the Chief said: "Well sir, all it contains is the only copy of the plan for a military coup, which I keep strictly under my personal care".
As may be imagined, the seeds of suspicion were sown unwittingly and its ghost would visit the PM's and Timmy's successors forever, even though Mr Nehru had chuckled and kept up tete-a-tete, to finish his cigarette.
Can India, China cooperate on Afghanistan?
Afghanistan matters not because it is an arena for inter-state competition or competing national interests. It is important because a weak state can make it vulnerable again to radical forces and ideologies eager to fill any vacuum.

Zorawar Daulet Singh
The Shanghai Cooperation Organisation is so far the only regional institution in place but its area of interest is Central Asia and not Afghanistan. This file photo shows the SCO members and observers at a meeting in Bishkek, Kyrgyzstan, last year. AFP (Left) and Chinese Foreign Minister Wang Yi with his Afghan counterpart Zarar Ahmad Usmani in Kabul recently. According to China, Afghanistan's stability impacts its western province Xinjiang. AFP
I

NDIAN

, Chinese and Afghan delegations, comprising former practitioners and scholars, engaged in a trilateral workshop organised by an international think tank in the last week of February. The rationale for the workshop was to examine and identify the prospects for India-China cooperation over conflict management in Afghanistan.
As one Chinese scholar remarked if such a theme for trilateral cooperation had been suggested a few years ago, it would have been dismissed as simply fantastic. In fact, at the track-1 level, Indian and Chinese diplomats engaged in their first structured conversation on Afghanistan in April, 2013.
The recent workshop revealed interesting insights into how these two regional powers perceive their interests in Afghanistan, and how the Afghan elite perceive their own state-building challenges ahead.
Persistent bilateralism
A common pattern of Indian and Chinese remarks is the persistence of the norm of bilateralism in Delhi and Beijing's foreign policies. For both India and China, this can be traced to a cultural preference in their foreign relations for bilateral engagement and partnerships emanating from their post-colonial identities that constrain both states from sharing sovereignty in a multilateral or cooperative security framework.
China for shared approach
For China, bilateralism also has a particular virtue in this case as it enables Beijing to avoid disturbing its other regional priorities — primarily the China-Pakistan relationship. A Chinese participant made clear that Beijing is not interested in a solution that seeks to "AfPak" the process to pressurise Pakistan. China is not interested in involving itself in regional disputes (i.e. India-Pakistan, Afghanistan-Pakistan). In China's world, the participant argued, Afghanistan and Pakistan are viewed as separate issues with a clear priority: Afghanistan's security is a regional and global problem but Pakistan's security is China's problem.
The only regional institution in place – the Shanghai Cooperation Organisation or SCO — is not prepared at this stage to expand its original mandate and area of interest from Central Asia to Afghanistan. A Chinese participant argued that the SCO is useful for counter-narcotics cooperation but counter-terrorism cooperation was difficult under this format. The ship of the Chinese state moves slowly and cautiously, and, this was reflected by Chinese participants who seemed reluctant to offer decisive assessments on the possible flux in Chinese interests after the pull out of Western troops.
Chinese Foreign Minister Wang Yi's visit to Kabul on February 22 is significant. Wang outlined Chinese interests in a press conference with his Afghan counterpart, Zarar Ahmad Osmani: "The peace and stability of this country has an impact on the security of western China, and more importantly, it affects the tranquility and development of the entire region." Earlier, on February 7, Xi Jinping met Hamid Karzai at the Sochi Winter Olympics. According to official Chinese reports, Xi stressed that "China will continue to firmly support Afghanistan for the efforts for safeguarding state independence, sovereignty and territorial integrity, and support an "Afghan-led and Afghan-owned" national reconciliation process." Diplomatically, China has already adjusted its Afghan policy.
One Chinese scholar stated that India-China cooperation on Afghanistan is welcome but the primary initiative for such trilateral initiatives should come from Kabul. It was also stated that China will not lead a regional process but will be an equal member of a shared approach.
India and multilateral networks
Despite possessing a relatively softer version of state sovereignty, India too finds it difficult to craft effective trilateral or multilateral networks on issues of high politics. On Afghanistan, this is a disadvantage because without direct geopolitical access to a landlocked Afghanistan, crafting simultaneous partnerships with Afghanistan's immediate neighbours becomes obvious for India. Yet, in the post-9/11 phase, India's prior Afghan-centric cooperation with Iran, Russia and Central Asia simply dried up. In the last year or so, these regional conversations have restarted.
In fact, the Iranian Foreign Minister, Mohammad Javad Zarif, in his February visit to Delhi remarked: "Chabahar and a corridor, both rail and road from Chabahar to Afghanistan and Central Asia, is a project we are working together with India. I hope that in this trip we can take practical steps (to implement the project)". The Chabahar port is connected to the city of Zaranj in southwestern Afghanistan from where India has already constructed a 200-km road to Delaram (reducing the journey time from 14 hours to 2 hours), which further connects to an existing road network onto Kabul and other important provincial towns.
An Afghan participant remarked that an operationalised Chabahar port will open a new lifeline for Afghanistan and reduce the dependence on Karachi as Afghanistan's only line of communication to the Indian Ocean.
Overall, bilateralism remains an obstacle to structured regional cooperation, and, in the near-term, it is perhaps more realistic to anticipate Afghanistan's immediate and extended neighbours pursuing independent policies with limited coordination. But this does not imply that there are serious intra-regional conflicts of interest over Afghanistan. Leaving aside the case of Pakistan, which is pursuing its traditional role as a spoiler, none of the other regional states are actually working at cross-purposes. India, China, Iran and Russia are all legitimising the Afghan state and providing varying degrees of material assistance. In sum, self-help policies have not translated into zero-sum outcomes so far.
Assistance for Afghanistan
The Afghan side consistently emphasised the sovereignty of the present Kabul regime and argued for an "Afghan government-led" reconciliation process rather than an "Afghan-led" process of inclusive peace building among the different ethnic groups. According to participants, the latter nomenclature is prone to misuse by external actors attempting to pursue their own conflict-resolution strategies on the reconciliation issue, which more often than not undermines the credibility of the Afghan government, and, the efficacy of the reconciliation process itself.
The general impression was the Afghan elite appears resilient enough to preserve the gains of the past decade and there is agency inside Afghanistan to absorb capacity-building assistance from wherever they can find it. One former practitioner remarked that a demographically young Afghanistan cohering around an Afghan national identity will not voluntarily submit to radical or separatist ideologies if even a modicum of an international lifeline in terms of capacity and financial assistance remains open for the remainder of this decade.
On China, the Afghan side urged participants to stop viewing Afghanistan through Pakistan's prism and view it as an entity itself. On India, the Afghan side sought greater support – if not an "alliance" then an effective "partnership". Afghan requirements include training their officer corps, military equipment particularly helicopters and medical evacuation capabilities, training a generation of technocrats to man the embryonic state apparatus, educational assistance via scholarships to Indian and Chinese institutions.
Scenario post-2014
Historically, Afghanistan's role in the region has evolved in four broad stages. The pre-modern phase was really about Afghanistan as a route to militarily access India. As one Afghan participant wryly remarked this phase left only ruins to reminisce about. The second stage of Afghanistan's development was the "Great Game" era, and, Afghanistan's territorial definition was shaped by imperial expansion and an ultimate accommodation between British India and Russia. In the backdrop of such a balance of power, Afghanistan discovered some autonomy as a buffer between these two empires. The 1907 Anglo-Russian convention gave formal expression to a semi-neutral Afghanistan.
The third stage was opened with the 1979 Russian invasion, which overturned what had remained a peripheral locale for the great powers. The reaction to this intervention led to the ultimate destruction of the Afghan state, and, the ascendance of the externally sponsored Taliban in 1990s.
Post-2001 opened the contemporary phase. Today, Afghanistan matters not because it is an arena for inter-state competition or competing national interests but because a weak state can make Afghanistan vulnerable again to radical forces and ideologies eager to fill any vacuum.
The one unstated question that seemed to form the backdrop of the workshop was whether regional powers could live with an Afghan power vacuum that strengthens extremist havens and its potential spillover onto their territorial frontiers. For India, the historical lessons are clear: even a modicum of a progressive pluralistic state in Afghanistan is an antidote to radicalism in South Asia. For China, the spectre of radicalism infecting its western regions suggests Afghanistan can no longer be dealt via a posture of benign neglect. But the policy mix for both India and China in terms of level of assistance and involvement is in flux.
As the realist adage goes, there is no virtue like necessity. The coming months and years might find two unlikely regional powers — India and China — coordinating on at least some questions on Afghanistan's destiny.
— The author is a doctoral candidate at King's College London, and co-author of India China Relations: The Border Issue and Beyond




































Long and valiant history of service
Posted: March 07,
NEXT year will mark the bicentenary of the link between Gurkhas and the British Army.
It was in 1815 that Nepalese and British soldiers first fought together, the former serving in the army of the British East India Company.
Gurkhas fought in several campaigns on the Indian sub-continent, remaining loyal to the British administration during the Sepoy Rebellion of 1857.
The following year the first of the Gurkha regiments' 26 Victoria Crosses was awarded to British officer Lt John Tytler.
As well as colonial campaigns, the Gurkhas fought in both world wars. More than 100,000 fought in the First World War, winning 2,000 gallantry awards – including the first VC awarded to a Nepalese Gurkha soldier, Rifleman Kulbir Thapa, in 1915.
He was honoured for rescuing injured soldiers from No Man's Land – German troops were reputedly so impressed that on Thapa's third excursion, they clapped him back to his lines.
The Gurkhas sustained 20,000 casualties in that war and a further 23,000 when 132,000 of their soldiers served in the Second World War.
In 1948, on the creation of an independent India, six of the ten Gurkha regiments were transferred to the Indian Army; four remained in the British Army as the Brigade of Gurkhas.
Since then, units have served in Malaya, Borneo, the Falklands, two Gulf Wars, Kosovo, Bosnia, Afghanistan and Sierra Leone.
Recruits who pass rigorous selection trials in Nepal are trained at Catterick for service in the Gurkha rifle battalions or signals, engineer and logistics units.
|
more: http://www.nottinghampost.com/Long-valiant-history-service/story-20777525-detail/story.html#ixzz2vLXd8Bj7