Indus water: treaty and conflicts
On Sept 19, the treaty signed in Karachi entered 55th year, surviving hostility, conflicts, wars between nuclear-armed rivals
Lt Gen PK Grover
INDIA HAS BEEN TRYING TO UTILISE THE PERMISSIVE PROVISIONS TO THE FULL AND PAKISTAN HAS BEEN ATTEMPTING TO APPLY THE RESTRICTIVE PROVISIONS STRINGENTLY
In a world burdened by burgeoning populations and faced by declining water resources, water is likely to trigger conflict. For India and Pakistan, too, fed as they are by the common Indus river watershed, water is a serious issue.
The Indus river, having its source in Indian Kashmir and flowing through Pakistan, is the primary freshwater source for the latter. Agriculture being the mainstay of the economy in both countries, their dependence on the Indus and its tributaries is implicit and any problems with the flow therein can have serious consequences for both. In recent years, the water levels in the river system have been affected adversely by increasing populations, industrialisation and consequent ecological changes. The problem, posing an existential threat, apparently is more serious for Pakistan.
The Indus Water Treaty addressing the sharing of waters of the Indus between India and Pakistan assumes a crucial role. Concluded after prolonged negotiations and facilitated under the aegis of the World Bank, it is the world's most generous water-sharing pact, both in terms of the sharing ratio as well as the total quantum of waters reserved for the lower riparian state. On September 19, the treaty signed in 1960 in Karachi enters its 55th year, surviving hostility, conflicts, and wars between two nuclear-armed rivals.
Some disputes notwithstanding, the treaty is considered one of the world's most successful trans-boundary water accords, as it addresses specific water allocation issues and provides unique design requirements for run-of-theriver dams, which ensure the steady flow of water and guarantee hydroelectricity. The agreement also provides a mechanism for consultation and arbitration should questions, disagreements, or disputes arise.
The resolving of issues perceived by Pakistan regarding the construction of the Baglihar Dam and Kishanganga hydroelectric project within the framework of the deal bears ample testimony to its inherent strength.
However, for the past decade or so, Pakistan has been demanding a bigger share of water from rivers that flow from India, by objecting to the run-of-the-river hydroelectricity projects under construction on the western rivers, and by accusing India of diverting/storing water entitled to Pakistan.
During the recent inconclusive talks (August 24 to 26) between the Indus Commissions at Lahore, Pakistan has raised the disputed issues under the provisions of the treaty. It has objected to design technicalities such as "deep gated spillway, excessive pondage and height of freeboard" in the construction of the Ratle (850 megawatt), Pikkal Dul (1,000 MW), Miyar (120 MW), and Lower Kalnai (48 MW)

INDIA ADHERED
In response, India has maintained that it has all along adhered to the treaty and has never deprived Pakistan of its legitimate share of water, and has no intention of doing so. However, to look at Pakistan's requirements, there will be another round of talks in New Delhi after about two months, after Pakistan has made two visits to Miyar and Kishanganga to witness first-hand the constraints and justifications put forward by India. It is clear to Pakistan that instead of going into unending and costly international arbitrations, it should find a middle path.
Pakistan must appreciate that the provisions of the treaty, while allocating the western rivers to Pakistan, permit a limited use of those by India, as they pass through the Indian territory, for drinking water, existing agriculture use, limited expansion, a storage of no more than 3.6 MAF (million acre feet), and generation of hydroelectricity through run-of-the-river projects. These permissive provisions, as per Annexure C, D and E, are hemmed in with stringent conditions and restrictions to ensure that Pakistan stands protected from the possibilities of stoppage of flows or harmful flooding. India has been trying to utilise the permissive provisions to the full, and Pakistan has been attempting to apply the restrictive provisions stringently.
Pakistan will be well advised to understand the Indian perspective and resolve issues, if any, bilaterally under the provisions of the treaty.
Fortunately, a mechanism exists under the accord to carry out consultations and research on behalf of both countries and to remove misconceptions and anxieties. Article 7 of the Indus Water Treaty mentions 'Future Cooperation', which, inter alia, discusses efforts in the future to optimise the potential of the Indus river system jointly. Very little attention has been paid to this aspect, so far.
Therefore, a simple solution is to form a joint study group of experts who should function as a part of the mechanism available within the purview of the Indus Water Treaty on bilateral basis.
This group should carry out consultations and research on various current issues to optimise the availability/utilisation of water for various economic purposes and to further India-Pakistan relations. The study group may also consider building hydroelectricity projects with large dams on the western rivers with assured discharge to Pakistan to offset natural calamities because of floods.
The provisions of the treaty will continue to remain the cornerstone of the watersharing between India and Pakistan; and both countries will operate in a spirit of constructive cooperation. Thus, a regional approach is required in maintaining the prosperity and dominance of the mighty Indus.
Pakistan appoints army chief's close confidant as ISI boss
ISLAMABAD: Pakistan appointed a close confidant of the army chief as head of the InterServices Intelligence Monday, a move that suggested General Raheel Sharif was consolidating his position amid political instability here.
The appointment of Lieutenant General Rizwan Akhtar, part of a major reshuffle in the military, is aimed at cementing the army's dominance after weeks of anti-government protests in Pakistan. Akhtar will assume his responsibilities on November 8.
Political observers were surprised at his appointment as he has considerable experience in counterinsurgency from a previous posting in the troubled Waziristan and tribal areas but little in intelligence work. His previous job as head of the paramilitary Rangers in Sindh, saw Akhtar lead operations against Islamist groups and criminal gangs in Karachi.
The head of the ISI is one of the most important posts in Pakistan, at the intersection of domestic politics, the war on militancy and Pakistan's foreign relations.
China-India standoff continues along LAC
Chinese troops are still active along the border
NEW DELHI: Chumar sector in eastern Ladakh remained active with Chinese Peoples' Liberation Army (PLA) troops involved in tactical manoeuvre with the Indian Army to exercise dominance by transgressing the Line of Actual Control.
On Monday, the PLA reduced its strength at the 30 R point on the LAC and uprooted the seven tents it had put up last Saturday to house some 70 personnel with 17 vehicles. The situation report indicated that around 10-15 PLA troopers were standing on Chinese side of LAC with two trucks without any face-off with Indian troops.

But the reduction of PLA on 30 R has been compensated with increase of Chinese soldiers on Point 4991 to about 95-100 troops, triple the number who were there over the weekend locked in an eyeball-to-eyeball confrontation with some 500 Indian Army personnel. Point 4991 has a dominant view of Chumar.
It has now come to light that a division strength of PLA had exercised integrated battle some 70km away from Chumar LAC eight months ago.
The PLA exercise was conducted in "war zone concept" of the Chinese army, with real time intelligence and direct contact with the headquarters in Beijing.
According to sources in Leh, the Chinese PLA have already built a motorable track to point 4912 and are now trying to extend it to point 4991, which is close to Beijing's perception of LAC.
"If PLA were allowed to stay at point 4991, then the Chinese would have a clear view to Indian activities in Chumar and pose to military challenge to Indian Army positions in the area," said a South Block official The Chinese troops had a brief faceoff with Indian soldiers at point 63 on Monday.http://paper.hindustantimes.com/epaper/viewer.aspx

A veterans rally was organised at ALG Complex in Kishtwar, today under the Delta Force. The General Officer Commanding, Delta Force, speaking on the occasion, expressed his solidarity for flood victims of the state and reiterated that the Indian Army is always the first responder and had launched "Operation Megh Rahat" for providing relief to the needy.
The Delta Force has been able to rescue 54,630 civilians from the flood- affected areas, provided medical assistance to 8,581 civilians and meals to 45,718 civilians.
The GoC also appreciated the helping hand provided by the veterans of Chenab Valley in all the rescue and relief operations undertaken by the Rashtriya Rifles units.
In this rally two 'veer naris' were felicitated with cheques for Rs one lakh each and additional monetary assistance to 23 'veer naris' and veterans were also provided.
A modified scooter was presented to a battle-casualty ex-soldier. The GoC emphasised on the Army's resolve to ensure that the veterans were looked after well as they were a part of the extended family even after they had hung their boots.
He highlighted various schemes for veterans and "veer naris' initiated by the Army, Central and state governments.
Javed Khan, DDC, Kishtwar, also addressed the rally and highlighted the role of veterans rendering in building up social fabric in the Chenab Valley.
The rally was attended by 1,200 veterans and 'veer naris' of Kishtwar, Doda and Ramban districts. Apart from resolving pension-related problems and resettlement issues, a medical camp was also organised.
Army officer found dead in Akhnoor

Jammu, September 22
An Army officer was found dead in his room in the Pallanwala area of Akhnoor subdivision of Jammu today. He was a resident of Delhi. "Major Raman Baghla, who was officiating Commandant, ADS, 410 Field Hospital, was found dead in his room in the Pallanwala area this morning," said a defence spokesperson. A court of inquiry has been initiated, the spokesperson said. The Akhnoor police, which has initiated inquest proceedings under Section 174 of the CrPC, are also probing whether the officer committed suicide. TNS

As India's stand-off with China at Chumar in southeast Ladakh continues, Army Chief General Dalbir Singh Suhag has called off his four-day visit to Bhutan scheduled to start on Monday. He is expected to visit the neighbouring country later.
Meanwhile, the Army numerically dominates almost all positions at Chumar where it is locked in a face-off with Chinese People's Liberation Army since September 10.
New Delhi decided to ramp up its troop presence in the disputed area on September 19, asking the force to stay put till the PLA withdraws into areas held by it in Chepzi (Zhipuqi-Quebusi). China may retaliate by increasing the number of soldiers there, say sources.
In Beijing, Chinese President Xi Jinping, who is also the chairman of the Central Military Commission, attended a meeting of Chiefs of Staff of the PLA today. The Chinese Defence Ministry website quoted Jinping as saying: "Headquarters of all PLA forces should improve their combat readiness and sharpen their ability to win a regional war in the age of information technology."
As both sides blame the other for violating the sanctity of the Line of Actual Control (LAC) and the 2005 protocol that bars any troop build-up or construction in disputed areas, sources say a final resolution to the stand-off depends on "who blinks first".
A final decision to end the face-off will have to come from New Delhi and Beijing as the local military commanders have exhausted all options. The two sides will have to agree to a formula that seems workable for both. The events are being closely watched in Washington, Moscow, Tokyo and Islamabad. During the April-May 2013 stand-off at Depsang Plains, China had agreed to withdraw after India decided to remove some sheds it had erected at Chumar. Depsang and Chumar are separated by 650 km.
New Delhi decided to ramp up its troop presence in the disputed site on September 19, asking the force to stay put till the PLA withdraws into its area
Between 1,800 and 2,000 Indian soldiers are currently positioned in the disputed sections as against an estimated 800 PLA soldiers on its side

Armed soldiers are strung across on an east-to-west axis in a 2 km-wide arch, maintaining a distance of 700m to 1.5 km, depending upon the terrain.
Making war, talking peace
China maintains the ambiguous position on the border issue
B.G. Verghese
IT has been a turbulent week of war and peace. The Chinese President's visit was the highlight with peace being talked even as a mini-war was being waged in Ladakh, eyeball to eyeball, following Chinese objections to the construction of a small irrigation work near Demchok. Twelve trade and investment agreements were signed and the Chinese offered $20 bn worth of investment in five years to correct the present trade imbalance. Yet, the Ahmedabad Mirror reported that Northeasterers on the staff of the Hyatt Hotel were kept out of sight so as not to offend the Chinese guests. If true, this would be a sad self-goal and a rude slap in the face our Northeastern citizens.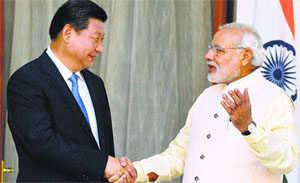 Prime Minister Modi, however, did well to tell President Xi that while trade and other exchanges were most desirable, no real progress and lasting friendship was possible without speedy settlement of the boundary issue. Three specific issues were mentioned: defining the LAC to ensure peace, with demarcation to follow; avoidance of stapled visas, and water sharing. Water-sharing is not a real issue as China's ability to divert waters from India is modest. The real water issue lies in managing climate change, which was apparently not discussed. Both sides have much to gain from such cooperation.
As far as the border is concerned, the Chinese have since 1954 maintained the ambiguous position that matters will be settled when the time is ripe. Thus even when a section of the LAC is mutually determined, the Chinese are unwilling to demarcate it and exchange maps. India must insist on firm ground rules here.
Mr Modi did not address the media during or after the visit. He has studiously avoided speaking to the media since taking office. But all of a sudden he has come alive in a "world exclusive" interview with CNN on the eve of his US-UN visit. This seems more an exercise in self-publicity than in communication, in which he blandly suggests that Muslims in India are absolutely safe even while the BJP and the Parivar have tirelessly indulged in an unrestrained campaign of slander, lies, dire threats and the most infamous calumny against them. This will not wash unless and until he takes action against some of his leading lights for criminal incitement, hate-mongering and propagating downright lies.
The recent by-election results in which the BJP lost 13 of the 23 seats spread over 33 constituencies in nine states is indicative of growing public disenchantment with the blatant electoral politics of hate and polarisation that the BJP banked upon. It suffered in UP and Rajasthan in particular.
The BJP leader in Bihar openly declared that if Yogi Adityanath spoke in Bihar as he did in U.P. he would have been promptly contradicted. Adityanath's rants apart, recall what some others said. Amit Shah, the BJP president declared that if Patel, not Nehru, had been "in charge" of Kashmir, the entire state would have come to India and there would have been no need for Article 370. This combines a high order of constitutional ignorance with historical illiteracy and a false pitting of Patel against Nehru in a new game of personality polarisation. Sakshi Maharaj, BJP MP, next alleged that madrasas are imparting instruction in terror and love-jihads. They do not hoist the national flag and Muslim MPs avoid functions where the national anthem is sung. The BJP disowned these outrageous statements as the personal views of the MP who, however, remains in good standing.
Then it was left to Maneka Gandhi, Minister for Women and Child Development, to claim that profits made from animal (read cow) slaughter are going to fund terrorism. This again is sheer rubbish and also betrays ignorance of the trade. The plain fact is that the bulk of cattle sold for slaughter are non-milch buffaloes and are disposed of by Hindus who cannot afford to keep dry and decrepit animals. Mechanisation of tillage and haulage has also reduced the demand for draft animals. Rather than acknowledge the facts and permit culling and rendering of animals and sales of processed beef, people are driven to illicit sales of cattle across the border to Pakistan, Nepal and Bangladesh. Most gaushalas are rackets of bogus piety and serve no purpose. That apart, millions of "holy cows" roam the streets and forests and do much damage to the ecology.
In Madhya Pradesh, a BJP MLA, Usha Thakur, asked her followers to keep Muslims out of the Garba festival to prevent Hindu girls from being trapped in love jihad. These are demented minds that would convert beautiful national festivals that bind our diversity into occasions to preach hatred and divide communities.
No wonder the National Minorities Commission has written to the Home Minister "to restrain people in responsible positions from making irresponsible statements". An earlier resolution by the commission was ignored. Modi sarkar does not care and has said or done nothing for months to stop this monstrous Hindutva hate jihad. And is this the man who is telling the world in an "exclusive interview" with CNN that Muslims need have no worry? Statesmanship or humbug!
Were this not enough, we have witnessed the arrogance of power in play. Ajit Singh, a former minister, has refused to vacate his bungalow despite repeated reminders, like several other defiant ministers, MPs and bureaucrats. He wants the bungalow converted into a memorial commemorating his father, Charan Singh. The Nehru-Gandhi example of endless land-grab for family memorials has created a terrible example. The Indira Gandhi National Centre for Culture and Art in the prime heart of Delhi represents the acme of land grab and the most extravagant use of space that it must disgorge to accommodate other cultural institutions.
The answer to Ajit Sigh and all similar defaulters is that their household goods should be dumped on the road and auctioned and all arrears and costs be met therefore. Protest should be met with arrest and a month's imprisonment. Do this just once under the law and the nonsense will end.
Then there is Hema Malini telling the tragic widows of Brindavan, mostly from Bengal and Bihar, not to crowd the place but remain in their home states. What impertinence from a woman who embraced Islam temporarily to marry after her partner-to-be secured talaq. What has she or the Parivar done to end the terrible plight of widows who are as yet unable to break the cruel taboo against widow remarriage, though abolished by law. These medieval bigots are the dregs of Hindu society.
Meanshile, we have Yasin Malik forcibly stealing a boat-load of rations for Srinagar's flood affected to divert to his partisans in order to claim credit for looking after their welfare even while protesting the state's alleged indifference and incompetence in rescue and relief operations. These separatist scoundrels have thrown stones at Army and Air Force rescue teams. They deserve to be horse-whipped and locked away.
SALUTING THE HEROES: IAF veterans pay tributes to martyrs at the War Memorial, Chandigarh Air Force Station, on Monday as part of events being organised to commemorate the golden jubilee year of the 1965 Indo-Pak war. Tribune photo: S Chandan
For a large number of Air Force veterans who had fought the 1965 Indo-Pak war, it was like turning back the hands of the clock and re-living the moments of glory as they lined up in front of the war memorial at the Chandigarh Air Force Station today.
As part of events being organised to commemorate the golden jubilee year of the war, a solemn wreath laying ceremony was held at the airbase to pay tribute to martyrs. An air Force ceremonial guard reversed arms while a bugler from the Army sounded the last post as a mark of respect to those who had laid down their lives in the line of duty.
Wreaths were laid by the Air Officer Commanding 12 Wing, Air Cmde SK Indoria, on behalf of all ranks of the station and by former Air Officer Commanding-in-Chief, Western Air Command, Air Marshal MM Singh, on behalf of the veterans.As many as 19 war veterans were present at the occasion. Among them were Air Marshal RS Bedi, Air Marshal PS Brar, Air Marshal SD Mohan, Air Vice-Marshal DS Nagi and nine air commodores. Air Commodore Indoria said that during the 1965 war, 12 Wing was involved in the operations from early August till the end of September to provide air transport support to the forces. Both transport squadrons based here were engaged in mobilisation of ground forces from the central India to the northern and western sectors. The only helicopter unit based at the station carried out continuous detachments from bases in Rajasthan and Gujarat. When the hostilities were eminent, 109 Helicopter Unit was again moved to Srinagar on August 15, 1965, following intelligence inputs of heavy advances by enemy forces in the Chamb sector.
A brief presentation on "Air Force Role in 1965 War" was organised by 12 Wing for serving as well as retired officers. The veterans also shared their experiences of service with the present generation of the Air Force personnel.
J
alandhar, September 22
The Vajra Corps dispatched 57 vehicles with relief material, comprising 17,200 blankets, 51,000 mineral water bottles, 49,000 kg of dry ration and other material collected from Army personnel and civilians as relief aid for the flood-affected
people of Jammu and Kashmir today.
Thirty-two military vehicles loaded with 115 tonnes of relief aid comprising 12,000 blankets, 21,000 mineral water bottles, ready-to-eat items, 21,000 kg of dry rations, 1,100 track-suits and 500 cardigans were sent to Jammu, Poonch, Akhnur and Riasi form Jalandhar by the Vajra Corps.
About 105 tonnes of material in 25 military vehicles, comprising 30,000 mineral water bottles, 5,200 blankets, a large number of clothing items like shawls, cardigans, T-shirts for gents and children and 28,000 kg of dry ration, has been dispatched to Srinagar.
The contribution collected from military personnel and civilians of Jalandhar and from other stations of Vajra Corps i.e, Ludhiana, Meerut, Ferozpur and Amritsar, has been sent for the flood victims of Jammu & Kashmir. Prior to this, eight aircraft, which includes an IL-76 aircraft, carrying relief aid, has already been delivered at Srinagar by the Corps.
Engineer Task Force and medical teams of the Corps are still deployed in the flood-affected areas of Srinagar carrying out relief and restoration operations.
-
THREATS AND IMPLICATIONS
Any consideration of the land borders of a large country like India needs to start by a look at the region, particularly the peculiarities of geography. The regional security environment must also be considered.
India is a vast country that has land borders with six countries,

but the small border with Afghanistan is only notional at present, as Pakistan is in illegal possession of the area, known earlier as the Northern Areas and now named as
Gilgit-Baltistan
.
It is also important to look briefly at the historical context so that the perspective is clear.
During the colonial era, t
he British Indian Empire in south Asia stretched from portions of Afghanistan in the West to Burma (now Myanmar) in the East, although Afghanistan, Burma and Sri Lanka (then Ceylon) were strictly not part of the Indian empire. When the British colonial era ended, India had been partitioned and Myanmar and Sri Lanka had become independent nations. South Asia then consisted of India, Pakistan, Nepal, Bhutan, Sri Lanka and Maldives. Bangladesh was later added when it emerged as a new nation in 1972.
Security Environment of South Asia
The South Asian region is historically a conflict prone region, on account of the following: -
v

Legacy of colonialism, the bloody partition of India in 1947 and the break up of Pakistan in 1971.
v

Tendency to dishonor treaties demarcating boundaries settled during the British Empire, and the use of military force to realign borders.
v

The intolerant attitude of the super powers during the Cold War towards those states that sought to pursue independent policies.
v

Discord amongst ethnic, religious and linguistic groups, resulting in internal turbulence.
v

Uncontrolled population explosion, leading to poverty, illiteracy, disease, environmental degradation and unplanned urbanisation. This is compounded by demographic shifts, both within nations and across borders.
v

Nuclearisation of the region and nuclear proliferation.
v

Arms and drug trafficking, and a growing nexus between crime and politics.
The other factors influencing the security environment in South Asia are paucity of energy sources, especially oil; inadequate harnessing of the abundant water resources; the impact of the growing potential of China; the war on terrorism; the spread of fundamentalism; and the social upheaval in practically all countries, due to the rising expectations of their people.
The security-related issues of the South Asian region have both external and internal dimensions. Major internal conflicts continue in all states of the region, like the simmering discontent among the Tamil population of Sri Lanka, even though the LTTE has been eliminated in military operations; the political instability in Nepal on account of the lack of assimilation of the Maoists in the political process and the continuing threat of violence by; the Islamic fundamentalism in Bangladesh, at present muted after the change of government; the fissiparous rebellions in at least two states of Pakistan, viz. Baluchistan and Sindh, in addition to the massive flare-up of terrorism throughout the country and the continuing policy of state-sponsored terrorism and fundamentalism, which the Pakistani Army is loath to give up; and finally, the plethora of insurgencies in India. We also need to add a footnote, which is the likely spill over effect of the pull-out of western forces from Afghanistan in 2014 on many countries of South Asia.
India's land borders extend from the Arabian Sea in the West; meander through varied terrain; from the deserts to plains; to low hills; to mountains, including high altitude and glaciated regions; to jungles and riverine terrain; and end in the Bay of Bengal in the east. The total length of the land borders is about 14,000 km. This includes 106 km of the border with Afghanistan, in the state of Jammu & Kashmir, which is in adverse possession of Pakistan.
The land borders are of various categories, which include delineated borders that are clearly defined (like the international border with Pakistan that is about 3, 300 km long); temporary borders that were accepted after wars, which are clearly marked on maps and ground, like the Line of Control (LC) in J&K that is about 779 km long; other temporary borders – the delineation of which is in dispute, both on maps and ground (like the Line of Actual Control (LAC) with China); and small stretches that are under dispute but under negotiations (like some pockets on the India-Bangladesh Border). India has land borders with six countries, but if Afghanistan is excluded, then with five countries. India needs to consider all these borders, even though its problems lie with only two, viz. China and Pakistan.
Land Borders with Pakistan
With Pakistan, India has four types of borders.
The first is the fully demarcated international border, commencing from the Arabian Sea in the west. It runs across the Rann of Kutch; the Thar Desert; semi-desert terrain; and ends in the plains of Punjab. It is fully demarcated and has boundary pillars. It is manned by a central armed police force - the Border Security Force (BSF). A barbed wire fence runs along its entire length, to prevent infiltrators and smugglers from entering India. The next stretch of the border, from the general area of Pathankot to around Jammu is 196 km long. India considers it as an international border, as it was the border between undivided India and the princely state of J&K before 1947. However, Pakistan calls it 'Working Boundary'. This stretch of the border is also manned by the BSF. It is strategically important, as the rail and road communications to J&K are in close proximity to it.
The third stretch of the border between India and Pakistan consists of the LC that runs from the vicinity of Akhnoor in J&K and ends at P
oint NJ9842, short of the Siachin Glacier. It is a 'live' border, with deployment by regular troops of both India and Pakistan along its entire stretch. The length of the LC is 779 km, although the original border of J&K, before the war Pakistan had unleashed on this state was 1225 km. Despite a ceasefire existing on the LC for the last ten years, firing incidents are fairly common as the Pakistani troops resort to firing to divert the attention of the Indian troops while they assist insurgents to infiltrate in to J&K. The entire stretch has a barbed wire fence on the Indian side of the LC, which has been fairly effective in reducing infiltration, but like all obstacles needs constant monitoring.
The last stretch of the border between India and Pakistan is the Actual Ground Position Line (AGPL), 110 km in length that lies on the watershed west of the Siachin Glacier. It is fully in control of regular troops of India.

Having tried a number of times and failed, the Pakistan Army is now content in only holding on to their positions on the western slopes of the watershed. It is now trying to get Indian troops to vacate, using diplomacy, as it visualizes a gullible government in India that would help them to regain these heights!

The Indian Army however is convinced that it must be held on account of its strategic importance, especially when it is being squeezed by Pakistan from the west, and China from north and east, which occupies the Shaksgam tract in the north and the LAC in the east.
India and Pakistan have already fought four wars across these borders. In addition, a proxy war unleashed by Pakistan, employing insurgents and terrorists trained and fully supported by it, is being fought in J&K since 1989.
The India-China border, 3380 km long, is not demarcated and is classified as 'disputed'. India had inherited the border from the British as a 'traditional border'. The major portion of the border was with Tibet, which was soon secured by China and thus India commenced having an undemarcated border with China. Although the eastern portion of the border had been marked on maps, as the McMahon Line, after a tripartite meeting between British India, Tibet and China, the latter had not accepted it.

Thus, the entire border is disputed and both countries have different interpretations of its alignment.

India and China had fought a border war related to the border in 1962.
This is the most dangerous border from India's view point and it needs to be resolved at the earliest. However, China does not seem to be at all anxious to resolve it, as it perceives it as a major pressure point for India. The border with China is divided in to three segments – western, central and eastern. Of these,

the eastern border is likely to take the maximum time for a resolution, as the claims of China are considerable.

Ultimately, only a give and take 'package' approach will resolve this intractable issue. Currently, many 'Confidence Building Measures' (CBM's) are in place but tensions do arise on account of patrolling activity by both sides up to their perceived locations of the LAC.
With China, India faces two types of threats. The first is on the immediate land borders where China has strengthened its infrastructure as well as beefed up its armed forces.
The second threat is the regional threat, as China has started asserting itself in the South China Sea and the East China Sea.
Land Borders with Other Neighbours
In the north, India also has borders with two other countries – Nepal and Bhutan. The border with Nepal is 1690 km in length and is demarcated. There is a small portion in the western portion that is disputed, but it is being resolved amicably through negotiations. The India-Nepal Border is an open border and citizens of both countries can cross the border without going through passport control. The India- Bhutan Border, 605 km in length is also demarcated and there are no disputes relating to this border.
In the east India has land borders with two countries – Bangladesh and Myanmar. The border with Bangladesh is
4337 km long and with Myanmar it has a length of
1452 km. The borders are largely demarcated, with a few enclaves on the India-Bangladesh Border still needing final resolution. The border between India and Myanmar is also demarcated, with boundary pillars in place. Only the area of Tri-junction between India-Myanmar-China has been left un-demarcated; it will be taken up once the India-China Boundary dispute gets resolved.
By most comparisons, India's land borders with its neighbours are vast and traverse many different types of terrain. In a large number of areas the terrain is extremely difficult. The guarding of the borders is a difficult task, and many places do lend themselves to being surreptitiously crossed.

Another problem is that
India's borders are manned by a large number of military and central armed police forces, each of which has its own ethos, and each reports to a different central ministry at New Delhi, with almost no real co-ordination in managing the borders. The result is that firstly the borders continue to be porous and secondly decision-making for incidents on the border is slow.
In some areas, there is dual-control

, e.g. while the Indo Tibetan Border Police (ITBP) is responsible for the LAC in Ladakh, the army too has a role, albeit not clearly defined. This needs rationalisation.
Characteristics of Land Borders
It is important to understand the nuances of each type of border, as some lend themselves to being violated or intruded upon more than others, on account of their status. As an example, an adversary would be much more cautious in violating a delineated border than one that is temporary in nature. Hence, while formulating plans for the defence of vulnerable borders, the defender has to keep in mind this aspect too.
A historical example will further clarify this aspect. This refers to the Pakistani attack across the Cease Fire Line (CFL), (as it was then known) in the Chhamb – Jaurian Sector in the 1965 Indo – Pak War. The Pakistani strategy was to confine the war to the state of J&K, as they thought this would be more advantageous to them. They first infiltrated small irregular detachments in J&K, in a bid to cause chaos and an uprising. Since this did not meet with any success and the reaction of the Indian Army on the CFL was violent, they decided to launch conventional operations in another sector to draw out Indian forces. They selected the Chhamb Sector, as it was across the CFL and not the international border. In their thinking, the operations would continue to be confined to the CFL, to their advantage. However, the Indian Army surprised them by launching its riposte across the demarcated border in the Amritsar-Lahore Sector.
Before proceeding further
, it needs to be clarified that no war in future would be confined to the land borders, as the adversaries would employ all their forces, naval and air forces included, in addition to the land forces for defeating the enemy. However, this paper will continue to focus primarily on the land borders.
DOCTRINAL AND FORCE EMPLOYMENT ISSUES
At this stage, it may be pertinent to have a broad look at the conventional forces that India and its neighbours with contiguous land borders have, so that the perspective is clear.

The first group of countries may be referred to as 'armed to the teeth'.

These are China, India and Pakistan (in that order). All three have large land forces. The next category is

those countries that field medium sized forces

. These are Bangladesh, Myanmar and to a lesser extent Nepal. The last category is

the country that has only nominal forces. Only Bhutan fits in to this category.
The many conflicts India has fought since Independence in 1947 have been of broadly three categories. Besides one-to-one conflicts, like in 1962 with China and with Pakistan in 1971, there have been wars/conflicts, where sub-conventional elements have also been used by Pakistan in its wars with India. Thus, the war in Kashmir in 1947 was started by Pakistan by launching so-called Raiders in the Vale of Kashmir. In 1965 too, Pakistan first sneaked in guerrillas and later enlarged the conflict when the Indian Army reacted forcefully. The third category is a mixture of conventional and sub-conventional conflicts, where both regulars and non-regulars have been employed simultaneously. This was the case in the Kargil War of 1999.
Conventional wars can be total or limited. In relation to India, all wars fought since Independence have been 'limited wars'. This is also the case throughout the world after World War II. This trend is likely to continue.
Effects of Nuclearisation on Conventional Conflicts
An important factor is the nuclearisation of our region, with China, India and Pakistan possessing nuclear weapons. Although some analysts feel that
nuclearisation has resulted in an end to conventional wars/conflicts, this is an incorrect assumption
, as would be apparent from all three countries continuing to field large conventional land, naval and air forces.
The Indian political leadership has not fully grasped the significance and power that the holding of nuclear weapons generates for a nation. Since the military has been deliberately kept out of the policy formulation loop, the political leadership relies on advice from

the bureaucrats and diplomats. Unfortunately, their knowledge of even conventional forces is extremely limited and they are pretty much 'at sea' about strategic issues. Diplomats who deal or have dealt with nuclear issues like NPT in international conferences do understand some aspects of nuclear issues and are able to articulate on them with confidence. However, when it comes to the strategic employment or non-employment and the importance of the deterrent value of nuclear weapons, even they have only superficial knowledge. Even those who are manning the NSC, mostly diplomats, fall in to this category.

My aim is not to denigrate these worthies but to point out the pitfalls of relying on only their advice when the chips are down.
Consequently, in situations where strategic decisions are needed for the employment and / or tasking of such weapons,

our leadership tends to chicken out

. This is the major reason for our political leaders to select the soft options, which essentially boil down to appeasement.

The need of the hour is not to discard the hard power options and depend solely on 'soft power'.
There are many reasons why Pakistan and or China would not use the nuclear option.
As far as the India–Pakistan equation is concerned, near parity currently prevails in conventional forces, with India only enjoying a slight edge. Resultantly, it is highly unlikely that the Indian military will cross the nuclear threshold of Pakistan, except in the rarest of circumstances. A close look at the Indo-Pakistan adversarial relationship would indicate that despite popular perception, propaganda and hype, Pakistan has not displayed extreme irrational behaviour, though the calculations of their military and political leaders in all the four wars have gone seriously wrong. The leadership of Pakistan must be fully aware that a nuclear strike by Pakistan would mean the end of that country, no matter what damage it could inflict on India. That is why nuclear weapons, even tactical ones, cannot be used. A rational understanding of this non-option is the whole basis of deterrence.
With China, the equations are different. The aim of China in the near and medium terms is to avoid war till its long term plans of becoming a super power fructify. China understands that nuclear weapons are for deterrence and not for war fighting, except in extreme cases. In the context of India, with its powerful military, where is the need for China to resort to using nuclear weapons?
External threats against India are many and varied. Despite many efforts made by successive Indian governments, we have been unable to resolve largely territorial and to a lesser extent other issues with both powerful China to the north and wily Pakistan to the west.
We do possess the conventional capability to defeat Pakistan decisively in a conventional war, provided modernisation of the military is carried out rapidly.
As far as China is concerned,
since we have neglected to improve infrastructure along our northern borders for decades, the military does need time, as well as rapid modernisation, before we can successfully defeat the People's Liberation Army (PLA) of China. The decision to raise additional forces for employing in the mountains, including a corps for offensive operations is welcome, but they need to be raised rapidly as we have already lost valuable time
There is one more important aspect that needs to be incorporated in our strategic planning. There has been some discussion in the public domain regarding dealing with
a two front war. This needs to be placed in the correct perspective. Although there is a theoretical possibility of China intervening militarily in an India-Pakistan war in future, a detailed analysis would reveal that such intervention, although possible, is unlikely.
As long as the territorial dispute with China along our northern borders remains unresolved, chances of a conventional conflict do exist. However, it is highly unlikely that a major conflict would occur. It would, in all probability, be limited in nature and may be largely confined to the areas claimed by China in Ladakh and across the Line of Actual Control (LAC) in Arunachal Pradesh.
The extensive land borders of India do create major problems, not only from militaries of adversary countries, but also from smugglers, drug traffickers and illegal immigration on account of demographic imbalance in some neighbouring countries. India needs to relook at the current methodology of manning the land borders so that weaknesses can be eliminated.
A few related issues need to be highlighted.
Conventional war is not only possible, but may well come about, if the manning of the land borders is not improved. At the policy level, concerns of neighbours need to be settled by negotiations, economic cooperation as well as resolving issues on the basis of give and take.
At the same time it is incumbent on the government to maintain a modernised military so that should an adversary resort to the use of force, the country is able to meet it with confidence.
Nuclear war is highly unlikely, but rhetoric – mainly for the sake of domestic audiences – will remain.
Nuclear stability, not just in South Asia, but throughout the world, would be better served if the present apartheid in nuclearised countries is removed and partisan and self-serving treaties like the NPT are re-evaluated and re-configured.