IAF Jaguar crashes near Ambala, pilot unhurt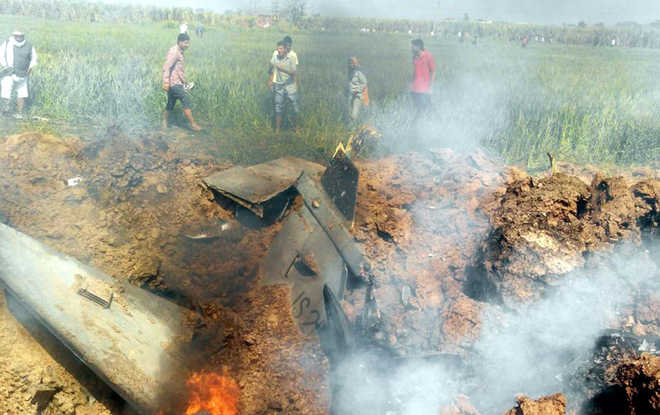 Landhi (Ambala), March 5
An Indian Air Force Jaguar fighter jet crashed into fields at Landhi village, 18 km from Ambala, today. The pilot escaped unhurt. The jet developed some technical snag soon after taking off from the Ambala Air Force Station.
Flight Lieutenant Vivek Chaudhary steered the aircraft away from the populated area before ejecting as the jet crashed into the fields surrounded by villages. The pilot landed at Landha village, 500 metres from the crash site.
Sources said the Jaguar took off from the Ambala Air Force Station at 1 pm and reported some technical difficultly at 1.04 pm. As the Flight Lieutenant could not recover the plane mid-air, he decided to eject and the jet crashed at 1.07 pm.
Two Air Force helicopters and a team of IAF officials reached the scene and cordoned off the area.
The IAF officials used handheld fire extinguishers to douse the flames. Six fire tenders were dispatched from Ambala and Kurukshetra districts but the area remained inaccessible. The pilot had recently been transferred from the Jaisalmer air base, where he used to train fresh recruits.
The pilot was admitted to the military hospital for general check-up. No injuries were reported. Parminder Singh, son of Ajaib Singh, said the plane swirled before crashing into their field. The crash scene is barely 500 m from IOC's Panipat-Jalandhar underground pipeline.
Air Force officials and policemen had a tough time handling a large number of curious villagers who descended on the crash scene. Ambala Deputy Commissioner MS Brar said senior officials of the district administration were present at the scene to assist the IAF officials.
AFT quashes Army's new promotion policy
New Delhi, March 5
Rumblings in the Aam Aadmi Party leading to the exclusion of two founder members Yogendra Yadav and Prashant Bhushan from the National Executive (NE) has led many to surmise that there is little to differentiate between the nascent political outfit and other established parties in the country.
Both Yadav and Bhushan have not just been ardent supporters of the AAP, but also considered to be among the few select brains to steer the party along with its convener and Delhi Chief Minister Arvind Kejriwal.
What does their exit indicate? Does it mean that the AAP which sprung from an agitation against anti-corruption and later anti-VIP culture does not brook dissent? Does AAP also suffer from absence or lack of inner-party democracy? Or is the fledging AAP still coming to terms with its new found status as a political party which the people backed overwhelming for representing new ideals and freshness in politics?
The answer lies in a bit of all. Fired by idealism and crusade against corruption led to differences this time around during the Delhi elections over selection of some candidates. The Yadav-Bhushan duo was not in agreement with the entire selection. Ironically, realpolitik could be explained as the reason why the AAP leadership chose to stick to the candidates finalised and went with it. Among others factors was winnability, while the internal screening mechanism also gave the go-ahead signal. While both denied to be seen as conscience keepers in the party, their views on occasions reflect the ethical dilemma.
There is another issue of position on contesting elections elsewhere versus the need to consolidate work in Delhi, where people have voted with high hopes. Post-Lok Sabha debacle, the party continues to debate on the issue.
Ahead of the March 4 National Executive meeting where Yadav-Bhushan duo were relieved of their responsibilities, some leaders sought to impress upon the need to be "flexible" since the AAP was now a political party. What it meant for different people was left to individual interpretation.
A day after the meeting where 11 members voted in favour of the exit of Yadav and Bhushan and eight against the resolution, a prominent member of the NE, Mayank Gandhi, chose to make public his views.
"I was taken aback by the resolution of removing them publicly, especially as they themselves were willing to leave. Also, this decision to sack them was against the overwhelming sentiments of volunteers from all over the world," Gandhi wrote in his blog. He had abstained from voting yesterday.
SPACE SECURITY & GROWING CHALLENGES
Wary of China threat, US seeks deeper ties with India
China scales up defence budget to $145 bn
China on Thursday unveiled plans to make it a 'maritime power' by hiking its defence budget by 10.1% to $ 145 bn this year

The hike — a double-digit annual increase for the fifth year in a row — is $100 bn more than that of India's $40 billion allocated for this year PTI
The US today suggested there was room for deeper cooperation with India in the area of space security and the growing challenges in it, underscoring China developing "disruptive and destructive" capability in the sphere.
Citing the attendant risks and dangers of operating in space, the US Assistant Secretary of State for Arms Control, Verification and Compliance Frank Rose said here that his country has a comprehensive strategy to deal with it. Addressing an event at the Observer Research Foundation ahead of the first India-US Space Security Dialogue, he said the United States Director of National Intelligence noted in January 2014 that threats to space services were increasing as potential adversaries pursue disruptive and destructive counter-space capabilities.
"For example, Chinese military writings highlight the need to interfere with, damage and destroy reconnaissance, navigation and communication satellites. China has satellite-jamming capabilities and is pursuing anti-satellite systems," he said.
Noting that both the US and China have an interest in maintaining long-term sustainability of space environment. Washington remains concerned about Beijing's continued development and testing of anti- satellite weapons, Rose said.
He said China was moving forward with the development of full spectrum capability and had conducted destructive satellite test in 2007 and a non-destructive test last year. Today, India, the United States and the world all rely on satellites for communications, for disaster management and relief, for treaty monitoring, and for sustainable development among many other things.
The United States and India are both strong believers in transparency and rules based on international law and customs, he said.
Our Declaration of Friendship released during President Barack Obama's visit in January specifically mentions our mutual respect for "an open, just, sustainable and inclusive rule-based global order."
Given the threats and risks and national principles and laws, Rose said he believes that one of the most obvious and most beneficial areas of cooperation between India and the US is in the establishment of rules of the road for outer-space activities, he said.
As established space-faring nations, India and the United States should work together to clearly and publicly define what behaviour the international community should find both acceptable and unacceptable. Transparency and confidence-building measures such as the proposed International Code of Conduct for Outer Space Activities can contribute to everyone's awareness of the space environment. Among the code's commitments for signatories is to refrain from any action which brings about, directly or indirectly, damage or destruction of space objects and to minimise, to the greatest extent possible, the creation of space debris, in particular, the creation of long-living space debris. Rose said political commitments such as the International Code of Conduct are complemented by work on guidelines on space operations and collaborative space situational awareness in multilateral fora such as the United Nations Committee on the Peaceful Uses of Outer Space.
Army warfare training in state takes a hit
Tosa Maidan lease not renewed; troops being sent to R'sthan, MP for training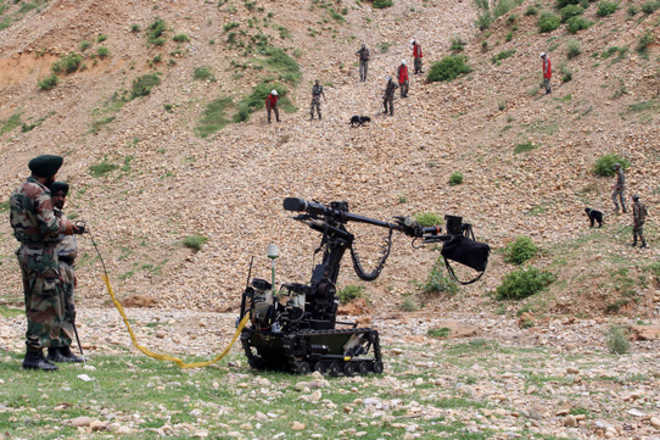 Firing ranges
Till last year, all units under 16 Corps (White Knight Corps) underwent training at Kalith while units under 15 Corps (Chinar Corps) were trained at Tosa Maidan

Tosa Maidan in Budgam and Kalith range in Akhnoor were used by the Army since 1965

The previous NC-Congress coalition government refused to renew lease deeds of Kalith and Tosa Maidan firing ranges in June and October last year, affecting Army's training in warfare
The Army's training in warfare, especially in artillery fire — a winning factor in conventional wars — has been severely affected in the insurgency-hit J&K, which shares its borders with China and Pakistan.
After the previous NC-Congress coalition government refused to renew lease deeds of Kalith and Tosa Maidan firing ranges in June and October last year, respectively, the Army's training in warfare has been adversely hit, said top defence sources.
As a last resort, the Army since early January this year has started sending its troops along with artillery guns and other weapons and ammunition from J&K to firing ranges in Rajasthan and Madhya Pradesh, they added.
It may be stated here that the Army has deployed several artillery units in counter-insurgency operations across J&K.
"In a last resort, we are now sending artillery regiments with artillery guns and ammunition to Mahajan and Pokhran field firing ranges in Rajasthan and Bobina field firing range in Madhya Pradesh for perfecting artillery fire, tank fire and other high calibre weapons," said a defence source. One artillery regiment has three batteries and one battery comprises 132 men and has six artillery guns.
Pulling out one artillery regiment (396 men) from counter-insurgency operations in the state for undergoing training in Rajasthan and Madhya Pradesh along with their weapons and ammunition takes a mammoth effort.
It takes over a month for the regiment to complete training and come back. However, it creates a vacuum in the security grid from where the regiment is pulled out, the sources said.
The process of booking trains, ferrying artillery regiment with men, guns and ammunition is not only tedious but also weakens our security grid in the militancy-hit J&K where Pakistan and China keep engineering activities inimical to India, they added.
Keeping in mind the security scenario, the Army has been sending its troops for training in a phased manner.
On August 14 last year, the then Brigade Commander of 52 Brigade, Brigadier RS Bathuria, had regretted the delay in renewing the lease. To date, the lease has not been renewed. All units under 16 Corps (White Knight Corps) used to undergo training at Kalith while units under 15 Corps (Chinar Corps) used to undergo training at Tosa Maidan. Tosa Maidan in Budgam and Kalith range in Akhnoor were used by the Army since 1965.
Defence finance wing redflags UPA's trainer aircraft deal
* 9 components overlooked before declaring lowest bidder, says ministry department
* In 2013, Finance under Chidambaram had alerted ministry headed by Antony
* What was to be spent on Pilatus trainer over 30 years will get over in just 7
* Antony says let them investigate if they feel there is a problem with deal
India's 2012 order for 75 Swiss Pilatus basic trainer aircraft (BTA) for the Indian Air Force (IAF) has run into rough weather with the finance wing of the Ministry of Defence pointing out that 88 per cent of the acquisition cost over 30 years will be incurred in just seven years because of "inbuilt flaws" in the Rs 4,000-crore deal signed during the UPA rule.
The Ministry of Defence (Finance) raised the red flag in January this year after the IAF moved a proposal for Follow On Support Contract (FOSC) for five years at an estimated cost of Rs 507 crore for maintenance and related issues of Pilatus aircraft — almost three times the cost for repairs and maintenance presumed at the time of evaluation of the lowest bidder (L1).
The Indian Express has learnt that in August 2013, the Ministry of Finance, then under P Chidambaram, while giving a no-objection certificate, had asked the Ministry of Defence, then under A K Antony, to fix future cost escalation through "clarification of fixity of contractual prices given in the pre-bid conference".
"RFP for life cycle cost (LCC) used by MoD may be made clearer on a number of aspects such as the cost elements which would be incorporated in the contract, the specific items on which vendor would be bound by any escalation quoted by him, the manner in which evaluation would be done where escalation has been provided and the way various cost elements quoted by them would be binding on the vendor. MoD needs to revisit the RFP format…" the Ministry of Finance stated in its letter dated August 22, 2013.
The letter mentioned that "the instant case has been forwarded without specific views of MoD (Fin)".
The Ministry of Defence, it is learnt, raised the issue twice through Financial Adviser (Defence Services) in two notes — in January 2013 and April 2014 — given to Antony asking him to "revisit all these cases urgently to address the issues highlighted by MoF and a view taken on how to progress them further".
On October 24, 2014 — after the change of guard at the Centre — a Ministry of Defence note stated: "It is clear that the basis for MoF in giving 'No Objection' for procurement of 75 x BTA was clarification on fixity of contractual prices given in the pre-bid conference… The argument that L1 vendor is L1 on the basis of both TCA (total cost of acquisition) as well as DAC (direct cost of acquisition) is not advisable as it will amount to denial of opportunities to vendor other than the selected one in view of the fact that issue of contractual fixity of price was not stated upfront in the RFP (Request for Proposal)."
So last Saturday, when the Defence Acquisition Council (DAC) cleared a proposal for the purchase of an additional 38 Pilatus, it put in a rider — purchase subject to examination of life cycle cost issues.
Reached for comment, former Defence Minister A K Antony said: "Let them investigate if they feel there is a problem."
The two orders for the Pilatus PC-7 MkII aircraft are to meet the IAF's desperate need for 181 BTA to train its pilots. The Hindustan Aeronautics Limited (HAL) will meet the remaining requirement by supplying the indigenous HTT-40.
The Indian Express has learnt that nine components, now part of an IAF proposal to pay Pilatus under the maintenance head, were not calculated during the request for proposal (RFP) stage before declaring it the lowest bidder.
This was an issue the South Koreans had also raised in 2011 after Korea Aerospace Industries (KAI) lost to Pilatus in the race for the contract.
"KAI is also confident that one of the bidders could not fulfill the requirements in RFP and DPP 2008 so that company should be disqualified in this tender process for fare and transparent competition," South Korea Defence Minister Kim Kwan-jin stated in a letter to counterpart Antony in July 2011.
The BTA contract was the first awarded on the basis of life cycle cost (LCC). Two components determine L1 (lowest bidder) under the new format: Direct Acquisition Cost (DAC) and LCC, the cost of operation spread over 30 years.
On January 9, 2015, the Ministry of Defence (Finance) red-flagged the deal: "The cost of acquisition with FOSC calculated with exchange rate at the time of L1 evaluation works out to Rs 3274.59 cr… Thus 88.89% of TCA (Total Cost of Acquisition) will be incurred at the end of 07 years period (02 years warranty + 05 years of FOSC) as against Rs 3684.52 cr for 30 years arrived at the time of L1 evaluation."
"There is no independent validation of information provided by the vendor to validate the claims made by them for TCA elements…The actual life cycle cost could be much higher than the one used for L1 evaluation and may invite audit objections subsequently," the MoD (Finance) stated.
In an email response to queries from The Indian Express, a spokesperson for Pilatus said: "We are not in a position to respond to your questions due to our contractual obligations. May we suggest that you direct your questions to the appropriate GOI/IAF departments and it would then be at their discretion to release any information pertinent to your enquiries."
Need strong defence forces for territorial integrity: President
Jodhpur: President Pranab Mukherjee on Wednesday said India needs strong defence forces for not only ensuring peace but also safeguarding its territorial integrity.
Mukherjee, the Supreme Commander of Indian armed forces, was speaking after awarding Presidential standards or colours to two elite flying units of the Indian Air Force (IAF) here-- the 21st Squadron and the 116th Helicopter Unit.
"As a responsible nation, India is firmly committed to peace and stability for which we need an effective deterrence and a strong defence force. While the nation is striving for all-round economic growth and social empowerment of its citizens, we remain equally focussed on building our defence capability that safeguards our sovereignty and territorial integrity," he said while delivering his speech at the Air Force Station here.
Mukherjee arrived here yesterday for the event, his first domestic tour after over two months as he was suggested rest due to illness.
The President lauded the IAF for not only "safeguarding the sovereignty" of the country but for also undertaking massive relief operations in calamity-hit areas in the past.
"The nation is immensely proud of Indian Air Force and remains indebted to the air warriors for their selflessness and sacrifice," he said.
China Increases Military Budget by 10%
Despite a slowing economy, China plans to increase its military budget by 10% to around $145 billion for 2015, according to a top government official.
China's official news agency Xinhuanet reports that Fu Ying, a spokesperson for the national legislature of China, the National People's Congress, told reporters that "the recommended growth rate for national defense in the draft 2015 budget report is about 10%", although the figure will be officially announced on Thursday when the annual session of the Congress opens.
Ying admitted that despite this increased spending, there is a gap between China and its foreign counterparts in terms of both the amount of military equipment the country can access and also how modern these weapons. "Lagging behind leaves one vulnerable to attacks. That is a lesson we have learned from history," Ying warned.
China's military spending is second only to the United States which has a proposed military budget of around $585 billion. U.S. defence spending in 2014 was estimated by the Peter G. Peterson Foundation - a foundation focusing on America's fiscal and economic challenges - to be higher than the next eight countries combined.
Although, the proposed budget could represent the slowest growth in defence spending in the country for five years, the figure of 10% would continue a nearly two-decade trend of double figure growth in military spending. Last year the budget was increased by 12.5%, and it stood at 10.7% in 2013.
While the Chinese government have not disclosed where the money is going to be spent, John Blaxland, senior fellow at the Strategic and Defence Studies Centre at the Australian National University in Canberra told Reuters funds would likely go toward aircraft carriers, submarines, cyber capabilities and satellites.
The Chinese military has been the target of an anti-corruption purge which was first initiated by Chinese president Xi Jinping in 2013. On Monday it was revealed that 14 senior officers had been placed under investigation, after the Central Military Commission published their names.
Pakistan Army Taking Steps Against Terrorism: US General
WASHINGTON: The Pakistani Army appear to be taking meaningful steps to back up their words that they can no longer discriminate between "good and bad" terrorists after the recent Peshawar school attack, a top US general based in Kabul told lawmakers.
"Senior Pakistani military officers have said that they can no longer discriminate between "good and bad" terrorists.
They appear to be taking meaningful actions to back up their words," General John Campbell, Commander of US and NATO forces in Afghanistan told members of the House Foreign Affairs Committee yesterday.
During his Congressional hearing on Afghanistan, Campbell said the role of Pakistan remains critical to stability in Afghanistan. Suspicions and competing interests have historically characterized Afghan-Pakistani relations, and these are most likely to persist in 2015, he noted.
However, the recent high-level engagements between Afghanistan and Pakistani leaders since Afghan President Ashraf Ghani's election represent one promising sign for regional security, he said.
"The common threat of violent extremism may serve as a catalyst for improved cooperation between the two countries, and we have already seen progress in the Afghanistan-Pakistan military-to-military relationship.
Pakistan, just like Afghanistan, has suffered greatly at the hands of terrorists and violent extremists," he said. The recent Pakistani Taliban attack on a school in Peshawar (on 16 December 2014) could mark a significant shift in bilateral relations, the general said adding that aggressive Pakistan Army operations in the last several months have applied considerable pressure on extremists operating in the border region.
Pointedly, General Raheel, Chief of the Pakistan Army Staff, stated during his recent visit to Kabul," The enemies of Afghanistan are the enemies of Pakistan. General Raheel's efforts are being matched by President Ghani's initiatives to encourage rapprochement between both countries," he said.
"Encouragingly, both appear to be pushing for an eventual political reconciliation with the Taliban," Campbell said, adding, the US continues to encourage actively and enable the Afghan and Pakistani officers to meet and coordinate their security efforts.
India Army, IDBI Bank signs MoU
The signing in ceremony was chaired by the Adjutant General, Lt Gen Rakesh Sharma and was attended by top dignitaries of IDBI Bank headed by Melvyn Rego, Deputy Managing Director.
The first MoU between IDBI and the Indian Army was signed in 2011 and was valid for a period of three years.
The revised MoU is tailor made to suit the requirements of serving soldiers, pensioners and families. Number of additional facilities have been incorporated in the revised MoU after concerted efforts.
"The basic features of the MoU are the same as before. It includes a number of free / concessional services including free drafts, free cheque books, free fund transfers to any bank in India through RTGS / NEFT, free ATM cards etc. Some of the additional features are the inclusion of Air Insurance and 'Off Duty Clause' in Personal Accident Insurance (PAI), Insurance for lost and counterfeit cards, purchase protection, Fire and burglary insurance for house hold goods and petrol surcharge waiver. Two major additions have been applicability of the PAI and overdraft facility to pensioners as well. The MoU also has a provision for yearly review of specific features and requests," the government said in a statement.
- See more at: http://indiablooms.com/ibns_new/news-details/N/8797/india-army-idbi-bank-signs-mou.html#sthash.JitVWd2g.dpuf
Gen Pervez Musharraf kept Gen Ashfaq Parvez Kayani in dark about Kargil plan
Pakistan's former army chief Gen Pervez Musharraf kept Gen Ashfaq Parvez Kayani in the dark about Kargil Operation in 1999 despite the latter heading forces responsible to guard (Pakistan-occupied) Kashmir, according to a new book by a former general.In his book 'Ham Bhi Wahan Mojod Thay', former minister Lt Gen (retd.) Abdul Majeed Malik asserts that Kayani headed the 12 Division that was responsible to guard Kashmir (PoK) but he was not taken into confidence over the operation which brought Pakistan and India on the brink of a nuclear war.Kayani was later hand-picked by Musharraf as his successor in 2007 as the army chief and he served for six years as head of army.RELATED
In his book, Malik said that Gen Musharraf did not keep Kayani in the loop, who later opposed the operation. Kayani or Musharraf has not commented on the book yet.Malik said only Musharraf was entirely responsible for the operation and even Prime Minister Nawaz Sharif was not told about the complete Kargil plan.Sharif maintains that he was cheated by his army chief over Kargil. But Musharraf has repeatedly denied it and said that the Prime Minister was properly briefed before operation.In the book, Malik claimed that Musharraf called on phone his chief of general staff from China to discuss Kargil Operation which was tapped by Indian intelligence agencies.It was a grave breach of security to discuss such a sensitive issue on telephone call, Malik said. He also criticised Sharif for appointing General Ziauddin Butt after dismissing General Musharraf in 1999 who refused to step down and removed Sharif instead and grabbed power.The book also shares how Pakistan conducted atomic tests. Malik has given full credit to Nawaz Sharif, who, according to him, was mentally ready to go for atomic tests despite opposition from certain close cabinet members.Malik was once very close to Sharif but later switched sides to join Musharraf after the 1999 coup.http://indianexpress.com/article/world/neighbours/gen-pervez-musharraf-kept-gen-ashfaq-parvez-kayani-in-dark-about-kargil-plan/
Army's 2009 promotion policy for Colonels 'unconstitutional': Tribunal
In a far reaching decision, the Principal Bench of the Armed Forces Tribunal has quashed the Army's promotion policy for the rank of Colonel from January 2009 onwards after finding it to be violative of Article 14 of the Constitution.
The AFT passed the orders on March 2 acting on a petition filed by a group of officers who had been adversely affected by the changed policy, known as 'command exit promotion policy', and had alleged it to be arbitrary and highly skewed in favour of Infantry and Artillery as compared to other branches within Army.
The AFT bench comprising Justice Sunil Hali and Air Marshal JN Burma has also ordered that the Army should consider the case of the petitioners and all those persons for promotion who have been denied the same on the basis of changed policy and create supernumerary posts for the purpose of pay and allowances from the date they were eligible for promotion to the posts based on merit.
The bench ordered that their promotion shall be considered on pro rata basis which was the policy in force prior to January 21, 2009. The AFT bench also said that the persons who have been promoted on the basis of the policy of 2009 shall continue to remain on their posts. The bench has also turned down the application of the union government for leave to appeal before the Supreme Court against the AFT orders.
The Government had released 1484 vacancies of Colonels to be distributed in two phases called AVSC I (750 vacancies) and AVSC II (734 vacancies) in November 2008. The aim was to achieve a reduction in the age of Battalion and Brigade Commanders and cause an improvement in career aspirations of officers of the Armed Forces.
The vacancies in Phase I of AVSC were allocated between the various Corps of the Army on pro rata basis of corps strength of officer cadre and the Phase II vacancies were distributed on Command Exit Model.
The petitioners claimed in their petition that in 2009, during the second phase of AVSC, "the Army HQs led by some senior officers made certain arbitrary changes to unfairly apportion a major chunk of the 734 additional Colonel rank vacancies for the corps they belonged". They averred in the petition that the change was aimed at controlling and regulating seniority of officers in such a manner that officers of certain corps were to be considered for promotion along with junior officers of the privileged corps.
The AFT noted that the proposal for change had initially been circulated among 16 senior most Lt Generals of the Army out of which as many as 12 Lt Generals expressed grave reservation towards changing the policy from pro rata basis to Command Exit Policy in 2009.The bench also found that nothing was brought forth to show that the change in policy made at Army Headquarters level had the approval of the Ministry of Defence and if due consideration was given by the Ministry on the issues raised by the petitioners especially when 12 Lieutenant Generals, most of them Army Commanders, had raised serious apprehensions on the impact of the change in the policy which could have grave repercussions on the future of the functioning of the Indian Army.
The data put forth the bench showed that there was an increase of 77 per cent in vacancies of infantry and 53 per cent in the vacancies of Artillery after the change of policy while the other branches-Army Air Defence, Engineers, Signals, Army Ordnance Corps, Army Service Corps and Corps of Electronics and Mechanical Engineering suffered losses in vacancies.
INDIA'S FOREIGN POLICY RADAR: IMPERATIVES TO DELETE PAKISTAN AND AFGHANISTAN – OPED
By Dr Subhash Kapila*
Pakistan for decades, and now Afghanistan, lately are strategic dead-weights and non-performing assets in terms of Indian foreign policy and Indian security interests.
Pakistan and Afghanistan may be strategic assets for United States national interests in South West Asia and that by itself is no reason for India to adopt American foster children in the region.
Pakistan has never shed its visceral hatred for India for over six decades now and four unprovoked and unsuccessful wars against India. There is something sinister in Pakistan's DNA and especially that of the Pakistan Army generals. No amount of Indian antibiotics in terms of olive branches, Track II toTrack IV processes and use of Indian Special Envoys can treat Pakistan's insecurities vis-à-vis India.
Successive Indian Governments of different political dispensations, including the present one, stood and stand distracted, from wider successes in Indian foreign policy initiatives because of the disproportionate attention bestowed on Pakistan.
The above chiefly arises from Indian subservience to American security interests in the region and Indian governments' propensity to outsource their Pakistan foreign policy to Washington.
In the last fifteen years of the so-called US-India Strategic Partnership, can any authoritative source, quote one instance in relation to Pakistan where the United States gave priority to Indian security interests?
The same pattern is visible in Afghanistan where the United States through the newly US-installed Afghan President is engaged in applying salve to Pakistan Army' sensitivities by weaning away Afghanistan from its decade old proximity to India. The new Afghan President as reported in the media has cancelled a number of military contracts to India and commenced training of Afghan Army officers in Pakistani training establishments. This, notwithstanding the billions of dollars pumped by India in reconstruction projects in war-ravaged Afghanistan which in itself was complimenting US interests in Afghanistan.
The Indian foreign policy establishment contextually needs to answer a number of crucial questions in relation to its Pakistan policy. Who needs peace and reconciliation in South Asia, India or Pakistan? Can a hostile Pakistan arrest India's ascendant power trajectory? Would the global community not engage a rising India because of Pakistan's hostility?
Obviously, it is Pakistan that needs peace and stability, both within and without, to ensure its continued survival as a viable nation-state.
A hostile Pakistan despite its nuclear weapons arsenal is in no position to impede a rising India. The global community, including United States and China, have by now already demonstrated that it is in their strategic interests to engage and cultivate India.
The next question that India foreign policy establishment needs to answer is that if by some magic wand the Indian Special Envoys or the Foreign Secretary succeeds in making Pakistan reasonable, would such a born-again Pakistan be a strategic asset to India? The answer is a big NO. Its latent hostility would resurface again because of strategic compulsions of the Pakistan Army.
Afghanistan is condemned to violence and turbulence at the hands of the Pakistan Army and the United States misconceived assessment that Pakistan Army is a US strategic asset. With a pliable Afghanistan President susceptible and responsive to US and Pakistan Army pressures, Afghanistan ceases to be a strategic asset to India even existentially.
India would have to recast and revive its older policy of cultivating and supporting the Northern Alliance. United States seems to have forgotten that it was on the shoulders of the Northern Alliance that US Forces rode into Kabul.
The above course may be viewed by the United States as contradictory to its strategic formulations, so what? India's national security imperatives dictate such a policy.
There will be a howl of Indian protests from the Indian Pakistani-apologists that dialogue, engagement and peaceful resolution of disputes are an inescapable imperative for India. The utter poverty of such thinking is exposed by Pakistan's regrettable approaches to Indian peace moves of the last over six decades.
Can India create a new and alternative strategic asset for itself in the region on its Western Flank?
Yes, it can, if it only chooses to stop being distracted by its endless and fruitless strategic attention on Pakistan and Afghanistan and divert its strategic attention, time and focus on Iran with which it has a Strategic Partnership.
Iran, like India, and unlike Pakistan and Afghanistan, is a regional power and shares a civilizational heritage with India. Iran's geographical contiguity with Pakistan and Afghanistan confer mutual strategic advantages. Both India and Iran enjoy strategic convergences in the region. It was regrettable that in the middle of the last decade India under Prime Minister Man Mohan Singh buckled under (once again) US pressure to downgrade its strategic ties with Iran.
India and Iran can be strategic assets for each other and it was this reality that had impelled Iran even under the Shah regime to reverse gears from its US- induced fixations on Pakistan, and make moves for strategic proximity to India.
Concluding, one would like to assert that Indian foreign policy radar can afford to delete the Pakistan and Afghanistan blips without serious setbacks to its strategic interests. However, to do so India would have to stop outsourcing its Western Flanks security interests to Washington.
Indian Air Force's Jaguar aircraft crashes; pilot ejects safely
A Jaguar aircraft of the Indian Air Force today crashed in agricultural fields near Shahbad town with the pilot ejecting safely from the plane, which eyewitnesses claimed narrowly missed a school building as it fell to the ground.The fighter jet crashed near Landa-Landi village, 12-km from Shahbad in Kurukshetra district of Haryana at about 1.15 P.M., police said, adding that there were no casualties or injuries at the site where the aircraft had crashed.The spot where the aircraft crashed after taking off from the Ambala air force base lies along the Ambala-Kurukshetra border and is located about 65-km from Chandigarh.According to Shahbad Station House Officer Ramesh Kumar, the pilot of the jet, Flt. Lt. Vivek Chaudhary, safely bailed out using a parachute just seconds before the plane crashed into the wheat fields.The pilot sustained some injuries and was airlifted by an IAF helicopter within 20 minutes of the crash. Kumar said that the pilot was taken to Ambala Cantt Army hospital.Besides the police, IAF and army personnel from Ambala rushed to the spot immediately after the crash.Flames leapt about and smoke billowed out of the aircraft after it crashed with the debris being scattered all over the fields.Meanwhile, according to some eyewitness accounts, the plane swirled before falling to the ground.Baljit Singh, owner of the agricultural field where the crash occurred, said he heard a loud noise and then saw a man drop towards the ground using a parachute, over a kilometre ahead of the crash site.Baljit said that the plane narrowly missed hitting a building housing a private school standing just a short distance away from the crash site. He said that some schoolchildren were playing inside the campus when the aircraft fell to the ground.Girish Kumar, who was working in the fields close to the crash site, too, said there was a "big blast" before the aircraft crashed.http://www.financialexpress.com/article/miscellaneous/indian-air-forces-jaguar-aircraft-crashes-pilot-ejects-safely/50771/
Towards a small war
- What should be India's response to terror?
Subir Bhaumik
The former American ambassador to India, Robert Blackwill, made the speculations public in February when he said that the next time India faces a 26/11-type terrorist attack, the country might consider going to war with Narendra Modi as prime minister. Blackwill, a Harvard academic who has researched the Asian alliances of the United States of America, was not kite-flying in solitude. During Barack Obama's recent India visit and beneath all the visible Obama-Modi bonhomie, the US security and intelligence officials accompanying the president, or in some way connected with his visit, were all involved in a detailed side exercise to assess what India might do if attacked by terrorists the next time on with Modi in the top job. Blackwill said what many in the US security-intelligence establishment seemed to strongly believe that though previous Indian prime ministers from Indira Gandhi to Manmohan Singh had considered the war option from time to time when hit by bloody terror attacks from Pakistan, it is Modi who could actually exercise the war option.
A popular - and populist - prime minister, who loves playing to the gallery and projecting himself as a modern day 'iron man' like Sardar Patel, and one whose political grooming as a fierce Hindu nationalist makes it incumbent on him to hit out strongly at Pakistan at the first opportunity, may not act with the kind of restraint that Atal Bihari Vajpayee displayed after the terrorist attack on Parliament when he mobilized the entire Indian army (Operation Parakram) but did not finally go to war.
Vajpayee, more than any Indian prime minister, had good reasons to make war on Pakistan as someone who had gone to Lahore to make durable peace and then been hit by Kargil, Kandahar, and finally the assault on Parliament. But he limited the Kargil campaign to a defensive effort to eject intruders from Indian territory, avoided pressures to do an Entebbe at Kandahar, and then deployed the entire Indian army without finally going to war with Pakistan. The feeling in Washington is that Modi is no Vajpayee. The fierce Indian riposte in artillery duels across the Line of Control seems to have confirmed American impressions that they need to work on developing a proper response to a scenario when India faces another Parliament attack or 26/11, and then decides to go to war.
A war between two nuclear-armed arch rivals has been Washington's worst case scenario in Asia, and Modi may make that happen is the feeling. As part of its ongoing exercise to defuse India-Pakistan tensions , Obama has done his bit to 'encourage'(some say, incentivize) Modi to resume dialogue with the Nawaz Sharif administration in view of Sharif's determined onslaught against the Pakistani Talibans after the Peshawar school attack. That has produced some results - the new foreign secretary, S. Jaishankar has visited Islamabad, although as part of a larger "Saarc yatra". But it is now emerging that Modi and his security-intelligence establishment are also confabulating on possible responses to a terror strike from Pakistan that some see as a possibility in the not-too-distant future.
If there is one discernible pattern in India-Pakistan relations, it is the certainty of a major terror strike being attempted by non-State actors backed by rogue elements in the Pakistani establishment (the army and ISI) to derail any bold step towards peace. As the Kargil mastermind Pervez Musharraf and the Lashkar-e-Toiba chief, Hafiz Saeed, have both said, the Kargils and Mumbais are a way of avenging Dhaka, 1971. For the 'dogs of war' in Pakistan, ceaseless terrorism and bleeding India by a thousand cuts is the only way to avenge a reality called Bangladesh that emphasizes the failure of Pakistan as a nation-state by its own success and points to the total inadequacy of Jinnah's two-nation theory. Unless our own Hindu zealots go out to promote it, as they sometimes do. At a time when Pakistan's civilian rulers moan over the country being itself the worst victim of terror (the Frankenstein syndrome catching up), its military establishment is still bent on fighting terror in the West but promoting it in the East .
Bangladesh's Hasina Wajed government has recently expelled an ISI official, Mohammad Mazhar Khan, working under diplomatic cover for the alleged funding of Islamist terror groups, including the Jamaat-ul-Mujahideen, which has created quite a base in West Bengal and Assam. The veteran Awami League minister, Tofail Ahmed, has even alleged that Pakistan was funding Khaleda Zia's disruptive agitation, which was bleeding Bangladesh in more ways than one. So, neither the US nor the Indian intelligence takes the Pakistanis seriously on their claims of not backing terror groups any more - hence the exercise in both Washington and Delhi over possible responses to a future 26/11.
Hawks may bay for war, pointing to Israel's avenging missions or even Jordan and Egypt ordering air strikes against Islamic State bases on the soil of other countries. Such air strikes or Entebbe-type missions are only successful if the forces have accurate intelligence - location of bases, number of terrorists, weapons they possess, levels of motivation, and so on. All punitive expeditions ordered without adequate intelligence and executed without sufficient preparation may backfire badly on those who undertake it. Compare Jaffna, 1987, with Bangladesh, 1971, and the depth of phased preparation for a final strike into East Pakistan stands out as a pre-requisite.
But 1971 is history because it happened before both India and Pakistan went nuclear. Therefore Parakram turned out to be a useless exercise. It became evident after the attack on Parliament that India will not be allowed to go to war. Modi is too clever to realize what India stands to lose if he overrides the global community and attacks Pakistan after a possible 26/11. Second, Modi has already been briefed by his service chiefs and surely has read up the last Parliament committee report on defence preparedness to entertain ideas of a 1971-type war. To fight a two-front war involving China and Pakistan, India needs 45 squadrons of combat aircraft when it appears to have less than 40. It needs 25 submarines to operate with two aircraft carriers to interdict Chinese shipping in the Indian Ocean - it has less than half of that in shape. From snow boots to helicopters, ships and tanks, the Indian defence forces are going through a phase where brave talk of being "prepared to fight a two-front war successfully" sounds like a joke. The military hardware is just not in place.
So, how does India deal with another 26/11? The only way that kind of crisis can be handled is by developing a doctrine of appropriate response. We do not have the American capacity for a trans-border surgical strike, either in PoK or elsewhere in Pakistan. And if non-State actors are responsible for attacking India, it is they and their patrons, and not the Pakistani people, who should be punished. Attacking terrorist bases, assets, hideouts and finances requires superb intelligence-gathering and offensive intelligence capabilities with quality "small-war technologies" that Israel, more than any other country, can help India develop. That is the direction in which Modi and his national security advisor, Ajit Doval, a great advocate of covert operations, seem to be moving.
Doval will also find powerful allies in Afghan and Iranian intelligence if he has to take on the ISI in its own game. Sensing that they can be paid back in their own coin, Pakistan's military establishment has started crying foul, blaming India for not merely fomenting disaffection and insurgency in Balochistan, but also instigating the Peshawar school attack. While the peaceniks in the Sharif administration welcomed Jaishankar's visit, the hawks in Rawalpindi threatened to have shared with the world evidence of Indian involvement in terrorism in Pakistan territory.
After I.K. Gujral as prime minister stopped RAW's offensive operations in Pakistan, which had intensified during Rajiv Gandhi's prime ministership when A.K. Varma was the RAW chief (as B. Raman testifies in Kaoboys of RAW), India lost its assets and networks for covert strikes inside Pakistani territory. There is no evidence that either Vajpayee or Manmohan Singh, famous for his Sharm-el-Sheikh faux pas, did anything to rebuild that capability. If Modi decides to do it, that will still take some time to develop. But that is what Modi should be going for - and not, as Blackwill predicts, for a war against Pakistan. The answer to Pakistan's terror machine is to unleash a peace offensive targeting millions of Pakistanis who seek better relations with India for their own future, using India's famed but rarely used soft power, and prepare deep assets for effective covert strikes as an appropriate response to any 26/11-type adventure. As the hero says in Neeraj Pandey's blockbuster, Baby, India needs to stay two steps ahead in the intelligence game for effective counter-terrorism.http://www.telegraphindia.com/1150306/jsp/opinion/story_7079.jsp#.VPk8zfmUe6M
WWI memorial, museum will be set up in Delhi
2014 marked the centenary of the commencement of the Great War/World War I (WWI), fought from 28 July 1914 till 11 November 1918. Of the almost 1.5 million Indian troops on the rolls of the Indian Army then, 13,81,050, who fought in all theatres of this war, were the decisive factor leading to the Allied victory.
While the Indian Army since its inception 256 years ago, has had a splendid and unsurpassed record of acquitting itself in every theatre, both in war and peace, it was the WWI which established its reputation globally as a very professional, disciplined and fearless fighting force, acknowledged by both allies and adversaries. In ceremonies held in the UK, France, Belgium, Turkey and Australia, in 2014 alone, praise has been showered on Indian Army's exploits. More events have been planned till November 2018.
Preceding the outbreak of WWI in 1914, the political consensus building up between Indian leaders was that if India desired greater responsibility and political autonomy, it must also be willing to share in the burden of Imperial defence. It is significant that Mahatma Gandhi and other political leaders were of the opinion that participation of the Indian Army would enhance India's stature, lead to self rule and finally to independence. Mahatma Gandhi even raised an Ambulance Company but could not proceed due to ill health.
While this war was very costly in terms of Indian casualties — 74,187 killed and over 60,000 injured/maimed — the Indian Corps won 13,000 medals for gallantry, including 12 Victoria Crosses (which were never before awarded to non-whites), and Indian regiments were awarded a host of battle honours in both the eastern and western fronts. WWI also paved the way for the development and organisational reforms in the Army, "Indianisation" of the Army's officer corps and formation of the Indian Air Force.
The advent of the machine-gun, improvements in the accuracy of firearms/artillery greatly increased casualties on the battlefield. With both cavalry and infantry becoming more vulnerable, it was trenches which were found suitable to fight from and within some months of the beginning of WWI, much of the European theatre became furrowed with trench lines. However, rain and the high subsoil water table soon made trench warfare a very messy ordeal.
The Indian Army units landed in France three to six weeks after war had been declared and were involved in their first military operation a month later, briefly capturing the town of Neuve Chapelle, before a strong German counter-attack drove them out again. Less than a month later, the Indian Corps was once again embroiled in fierce fighting, after the German Army had breached the Indian Corps' trenches in Festubert. Hand-to-hand fighting in the trenches, resulted in heavy losses of Indian troops and trenches.
The trenches were recaptured the following day after an "at all costs" order from the command.
Referring to fierce battles of 1915, Marshal Ferdinand Foch, commander of the Allied Forces in France in WW I, stated: "…The Indian troops were thus among the first to show the way to a victorious offensive. It is only right that a memorial should perpetuate the glorious memory of officers, non-commissioned officers, and men of the Indian Army at the very spot where later on a general attack by the Allied troops was to bring the decisive victory in sight. Return to your homes in the distant, sun-bathed East and proclaim how your countrymen drenched with their blood the cold northern land of France and Flanders, how they delivered it by their ardent spirit from the firm grip of a determined enemy; tell all India that we shall watch over their graves with the devotion due to all our dead. We shall cherish above all the memory of their example. They showed us the way, they made the first steps towards the final victory."
While there are memorials to the Indian Army in France, Belgium, the UK and Egypt, the Brits made the All-India War Memorial, now India Gate, located on Kingsway, now Rajpath, which has names of 74,187 Indian soldiers who died in World WarI and elsewhere between 1914-19 inscribed on the memorial arch. In addition, there are names of 12,516 Indian soldiers who died while serving in India, North-West Frontier and the Third Afghan War. Designed by Sir Reginald Blomfield, India Gate resembles the architectural style of the Napoleonic Arc de Triomphe in Paris and Menin Gate, at Ypres, in Flanders, Belgium.
Despite many wars and conflicts since India's Independence, no war memorial was made. The BJP coming to power last year, announced the construction of a national war memorial at the traffic roundabout behind India Gate and a war museum at the nearby Princes' Park, with an underground connecting route.
Civil-Military Meet Discusses Rehab Issues
THIRUVANANTHAPURAM: The Indian Army has urged the State Government to give serious attention to the welfare of serving and retired personnel from the state and to streamline the verification process of fresh Army recruits.
Lieutenant General Jagbir Singh, General Officer Commanding Dakshin Bharat Area, told a Civil-Military Liaison Conference here the other day that the rehabilitation of ex-servicemen was a matter of serious concern to the Army.
Kerala accounted for a sizable number of serving and retired personnel. A large majority left the Army at a relatively young age - 35 to 40. ''Their rehabilitation is of utmost concern to us,'' Jagbir Singh said.
Also, while service-related issues of the personnel are deftly handled by the Army, family issues and other matters pertaining to the personal lives of the soldiers were in the hands of the state government. ''Soldiers cannot afford to be distracted even for a moment from their jobs,'' he said.
He also asked the government to ensure that the district administrations carried out the verification of fresh Army recruits diligently. ''Around 2,000 young recruits join the Army from the state of Kerala every year. The verification of personnel is extremely important to prevent undesirable elements from joining the Army,'' he said.
Chief Minister Oommen Chandy, who presided over the meeting, said that the Army, Navy and Air Force should increase the funds allocated to the state for carrying out welfare activities of service personnel. A portion of the profits from the CSD canteens should be contributed to the Armed Force Flag Day Fund, he said. Chandy said that the government would continue to play a ''pro-active role'' in ensuring the welfare of serving and retired personnel.
Largest monumental national flag dedicated to the people of Ferozepur in Punjab
THe largest monumental National Flag in Punjab was unfurled in Ferozepur on January 25 this year by the General Officer Commanding, Golden Arrow Division. On March 03, 2015, at a ceremony held in Serenity Park, Ferozepur Cantonment, former MP and industrialist Naveen Jindal, President, Flag Foundation of India, dedicated the flag to the People of Ferozepur.
The idea to establish the Flag at Ferozepur, border town of Punjab, was conceived by the General Officer Commanding, Golden Arrow Division. His relentless efforts have fructified due to contribution made by the 'Flag Foundation of India' that has bestowed the Flag upon the citizens of the "Land of Martyrs".Speaking at the grand dedication ceremony, Naveen Jindal highlighted the work carried out by his organisation in promoting Nationalism by way of establishing 61 such Flags across the country. He also highlighted the contributions made by the Indian Army in promoting Nationalism and remarked that in acknowledgement of this fact, 21 such Flags have been established in military cantonments.
The dedication ceremony ended with a vote of thanks by the General Officer Commanding, Golden Arrow Division for the 'Flag Foundation of India'.
- See more at: http://www.merinews.com/article/largest-
monumental-national-flag-dedicated-to-the-people-of-ferozepur-in-punjab/15904761.shtml#sthash.7EPX4g1s.dpuf