NDIAN ARMY


Mounting defence against China

By Ajay Banerjee

Mindful of Chinese threat, India has announced the raising of a mountain strike corps in the East at a cost Rs 64,000 crore over seven years. Till that comes about, it must rapidly develop infrastructure along its borders, particularly the Ladakh sector, to stall any immediate aggression.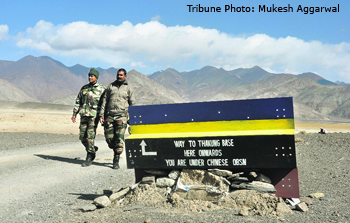 A file photo of Indian soldiers near the LAC in Ladakh. China has developed infrastructure right on its borders, but India is woefully short of roads, tracks and airstrips along its frontiers.
A
N
announcement by New Delhi to set up a specialised mountain strike corps has triggered a debate in strategic circles while raising hopes of India finally catching up with its competing Asian neighbour. However, China remains better equipped, has more troops, missiles, armoury and artillery; and is aggressively adding more besides fine-tuning its rapid deployment capabilities. India's situation can be best described by borrowing a terminology from athletics; the time has come to sprint, not just run, to catch up with China.
The capability of the new strike corps, aimed at striking deep within China in a conflict, will depend upon the pace at which India goes about its task. Ideally, a scenario where the planners and policy executors are untangled from the self-created hurdles when building roads, laying tracks and airstrips, or the inherent time-delays in buying or ordering new military equipment. Bureaucratic wranglings on who should be responsible for the frontier with China is another issue between the armed forces and the Home Ministry's Indo-Tibetan Border Police (ITBP).
China's rapid moves have startled Indian planners. The military thrust is one part. The pace of infrastructure building is what India needs to match. In the past five-seven years, China has built a track on the icy-barren Tibetan Plateau. It now has seven airstrips in Tibet and 19 in Xinjiang — both bordering India. Besides this, all-weather roads enable thousands of troops to move rapidly across the plateau and carry out patrol duties in vehicles.
It may be a coincidence, but on July 20, just three days after India announced the new strike corps, the People's Liberation Army Air Force (PLAAF) conducted an exercise to practice night landing by its fighter jets and transport planes on airstrips on the plateau. Indian intelligence agencies reported the occurrence to the mandarins in South Block and North Block in New Delhi.
In contrast, the Indian Air Force (IAF) planes have conducted landings at Leh in Ladakh on moonlit nights. In other areas of the Himalayas such a risky landing is not possible. The valleys in the mountains on the Indian side are too narrow. Even during the day, pilots do not get a second chance to correct a wrong angle of descent while landing. On the Chinese side, the Tibetan Plateau, despite its altitude being over 12,000 feet, is a flat tree-less expanse.
The announcement of the mountain strike corps had come even as high-level delegations from India and China talked about ways to maintain peace along the disputed boundary that runs along the Himalayas. The indication, or signal, to China was — peace talks notwithstanding, India would prepare for all scenarios. External Affairs Minister Salman Khurshid explained this saying: "Whatever needs to be done in the national interest, will be done."
Since the Cabinet Committee on Security (CCS) cleared the mountain strike corps on July 17 and allocated Rs 64,000 crore over the next seven years, there have been questions. Is it enough? The strike corps will be dedicated to the East, so what about Ladakh, Himachal and Uttarakhand?
Dr Rajeshwari Rajgopalan, senior research fellow at the Observer Research Foundation, a New Delhi-based think tank, says: "Speed will matter. Even the CCS-mandated seven years is a long period. By the time it happens, it will be too late in the day. And yes, there can be one more mountain strike corps."
A senior serving officer, who closely watches China, says: "Possibly, we need another such specialised corps in the Ladakh sector. But having one in the East may be enough." His presumption is backed by the premise that the "middle sector" (comprising Himachal and Uttarakhand) does not have disputes along the Line of Actual Control (LAC) — the de facto boundary between the two countries. India and China had exchanged maps in the middle sector in 2001, but there is no boundary demarcation to date.
In the Himalayas Indian troops largely occupy the dominating heights while the PLA has stationed its small units in fully built-up shelters a few kilometres away from the LAC on its side. Regular patrols are conducted using the road network, but India lacks roads. An internal assessment by the armed forces says: "Chinese infrastructure is right at the borders while ours is some 50-70 km short of it." This means the Indian military thrust will be slower and supplies will take time.
As an immediate measure, India needs roads, railways and airstrips. Some 73 roads classified as the India-China border roads (ICBRs) are running years behind schedule. Plans to have Himalayan railways have been on paper for the past few years, and night landing facilities on ALGs in Arunachal Pradesh and Ladakh are not even on the drawing board. It has taken more than eight years of work to pave three ALGs in Arunachal while work on the others is still on. In contrast, China has ringed J&K with new airfields in a few years. The Ngari Gunsa airbase has come up just 200 km east of Demchok in India. North of J&K, the airbases at Hotan and Qeimo in Xinjiang can be used to launch an attack while at Qazil Jilga on Aksai Chin, an airstrip has come up. Both India and China stake claim to Aksai Chin.
Out of a total of 13 corps in the Indian Army, four corps (each 45,000-men strong) face China. Each of these has a complement of artillery guns, specialised equipment, radars and UAVs. These are backed by long-range missiles which are handled by the Strategic Forces Command. These are 14 Corps at Leh, 33 Corps at Sukna (near Darjeeling), 4 Corps at Tezpur and 3 Corps at Dimapur (Nagaland). Out of these, 33 Corps and 4 Corps are entirely dedicated to China. The other two are dual-tasked. While 14 Corps handles the Line of Control with Pakistan in the Drass-Kargil-Batalik sector, besides duties in the tense eastern Ladakh frontier, 3 Corps handles the eastern border with Myanmar (Burma) alongside its task on eastern Arunachal — an area where India suffered most in the 1962 conflict with China. In case of an aggression, 3 Corps can swing all forces to face China. In Uttarakand, a brigade is stationed at Joshimath, completing India's China-specific forces.
The PLA has seven military area commands (MAC), out of which two — Lanzhou and Chengdu — are dedicated to India. The Lanzhou MAC is tasked for J&K, Himachal Pradesh and Uttarakhand while the Chengdu MAC is for Chinese frontiers facing Nepal, Sikkim and Arunachal Pradesh. Both India-specific commands have been allocated two group armies, each comprising between 75,000 and 1 lakh troops with equipment like tanks, mobile missile launchers, artillery and helicopters. The group armies at Chengdu are numbered 47 and 21 while those at Lanzhou are numbered 13 and 14. This means anything between three lakh and four lakh troops being dedicated for India.

The PLA has seven military area commands (MAC), out of which two are dedicated to India.

Lanzhou MAC is meant for J&K, Himachal and Uttarakhand while Chengdu is for Sikkim and Arunachal Pradesh.

The commands have two group armies comprising 75,000 to 1 lakh troops each, tanks, mobile missile launchers, artillery and helicopters.

Three lakh to four lakh troops dedicated for India.

Two fighter aircraft divisions in each command.

Airborne bomber division at Lanzhou; transport plane division at Chengdu.

China has ringed J&K with new airfields.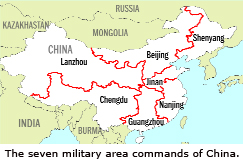 Besides this, the PLAAF has two divisions of fighter aircraft in each of the area commands. Lanzhou has an airborne bomber division of the PLAAF while Chengdu has a division of transport planes. These planes can land at any of the 26 airstrips in Tibet and Xinjiang to drop troops and equipment, or be based when the airstrips are to be used as forwards bases.
Troops in both commands are trained in complex terrain warfare in mountains while Lanzhou also has a mobile force. An Indian assessment of the group armies says: "The composition of group armies varies according to their location, mission, and readiness level, but generally include two-five combat divisions or brigades (infantry and armoured), as well as a number of combat-support and combat-service support units. Some group armies have also been assigned with helicopter and special forces units."
China's rapidly changing military tactics could be India's biggest worry. The latest report of the US Department of Defence titled "Military and Security Developments Involving the People's Republic of China 2013" describes the country's military capability. It reads: "The PLA is investing heavily in modernising its ground force, emphasising the ability to deploy campaign-level forces across long distances quickly. This modernisation is playing out with wide-scale restructuring of PLA ground forces that includes a more rapid, flexible special operations force equipped with advanced technology and improved army aviation units utilising ultra-low altitude mobility helicopters armed with precision-guided munitions."
In March 2013, the State Council of China published a white paper titled "The Diversified Employment of China's Armed Forces" which talked about these rapid movements. It claimed the PLA extensively practised the move to concentrate troops. "Trans-military area command movements have been carried out. In 2012, the Chengdu MAC and Lanzhou MAC carried out the exercise."
What the strike corps will have

INDIAN defence in the Himalayas comprise troops (about 1,60 lakh), long-range artillery guns and an armoured component in a small segment. Unmanned aerial vehicles (UAVs) keep an eye on ingress routes, which also have radars. Small radars are also fitted atop mountains. The mountain strike corps will be the first offensive capability to launch a pincher attack on China — the three existing strike corps at Ambala, Mathura and Bhopal face Pakistan. The new corps is expected to change some of the military-tilt China enjoys over India. It will have two infantry divisions (15,000 troops in each) trained in mountain warfare. One of the divisions will be east of "chicken's neck", a name for the Siliguri corridor, and the other will be located west of it. The headquarters will be at Panagarh in West Bengal.
Six to seven brigades — about 5,000 troops in each — will be stationed across important ingress routes in the Himalayas in Sikkim and Arunachal Pradesh. In addition to the infantry divisions, there will be three artillery brigades, each with 90 guns of 155 mm each. Some guns will be imported while the rest will be ordnance-factory replicas of Bofors. These will be supplemented by the BaE systems-produced M-777 Ultra Light Howitzer which India is buying from the US. These guns can be slung under helicopters and quickly stationed atop a mountain to provide cover.
The corps will have an Air Defence brigade that will carry truck-mounted missiles for close reaction to any enemy attack. An aviation brigade has also been approved, which will have helicopters for attack, reconnaissance and heavy lift support. Boeing's heavy lift Chinook and attack helicopter AH 64 Apache will be part of it. The strategic lift plane C-130-J will have a small unit attached to the corps for rapid deployment.
The IAF has stationed Sukhoi-30 MKI based in Tezpur and Chabua while six advanced landing grounds (ALGs) are being readied in Arunachal to land C-130-J Super Hercules and Russian-built AN 32. A small unit of the MI-17-V5, which has night flying ability, has been added to the eastern front.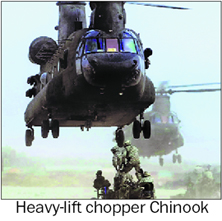 T
wo infantry divisions having 15,000 troops each.


Six-seven brigades (5,000 troops in each) across the Himalayas in Sikkim, Arunachal Pradesh.


3 arty brigades, each comprising 90 guns of 155 mm.


Guns supplemented by M-777 Ultra Light Howitzer.


Air Defence brigade armed with truck-mounted missiles.


Aviation brigade


Boeing's Chinook and attack helicopter AH 64 Apache.


Strategic lift plane C-130-J for rapid deployment.
Unified command cry gets louder
EVEN as military issues crowd the discourse in South Block, a pending matter on who is responsible for the overall control of the 3,488-km frontier with China keeps getting raised, and gets pushed under the carpet with similar periodicity.
The security of a large section of the disputed alignment of the LAC is mandated to be with the ITBP, a paramilitary force controlled by the Ministry of Home Affairs (MHA). The Ministry of Defence (MoD) has suggested a unitary control of the border, meaning the ITBP should be under the operational control of the Army. However, the MHA has rejected the proposal. Union Home Minister Sushilkumar Shinde has made it clear that the "ITBP would stay with the Home Ministry."
The Army's argument is that since the LAC is an unsettled border, it should be with the Army. It says across the LAC, Tibet does not exist anymore. It is China that is in control. The example of the LoC with Pakistan is cited. India and Pakistan had exchanged maps in 1972 and it is with the Army. The same yardstick should be applied to the LAC. The BSF at the LoC works in tandem with the Army, which retains its full operational control and is also responsible for the LoC.
The dynamics have changed since the ITBP was set up with 1,500 men in October 1962. Today, the force is 77,000 strong and has IPS officers at senior levels.
However, the ITBP says only a small segment of the BSF is under the operational control of the Army. The rest of the force guards borders with Pakistan and Bangladesh. The ITBP's mandate is along the frontier. If the border guarding duties are handed over to the Army, what will be the role of the ITBP? If its operational control goes to the Army, will the entire force come under it?
A senior Army officer says: "It has been suggested that the ITBP teams led by their deputy commandants live with the Army and work and operate in tandem along the LAC, so that the same pattern is followed for patrol, aggressive posturing and commonality of equipment." When such a team reverts to other units of the ITBP, it will carry the same operational ideas. The other suggestion is to have ITBP men on deputation to the Army.
Officers of the ITBP counter it, saying for a true integration, they should be allowed to command Army units. On some forward posts, the ITBP and the Army do work jointly. The ITBP's grudge is that reconnaissance equipment like helicopters, UAVs and radars are with the Army and it does not get a real picture at posts along the LAC.
The ITBP wants to retain its identity as a specialised force of mountaineers and skiers. During the Uttarakhand floods, it was praised by the Army and IAF chiefs, says a senior ITBP officer.
The other issue is who will handle trade at the designated points in Uttarakhand, Himachal, Sikkim and Arunachal Pradesh? The government does not want the Army to be involved in trade as it is more of a policing subject.
Just after the Chinese intrusion in the Daulat Beg Oldie sector, the Army had suggested that the areas of control be demarcated between the ITBP and the Army.
Kargil Vijay Diwas, a special day even as memories fade quickly
New Delhi, July 26 (ANI):
Memories can fade quickly. But in this age of 24X7 news media and social media, it is hard to forget special days. This was the case even today, in fact yesterday night, when I realised that today was the Kargil Vijay Diwas.
It would have passed as just another day, but from a message I got from a friend today morning. "On Vijay Diwas, thank you for what you have done", it said.
I really didn't expect it and didn't even know how to respond to it. "I was posted elsewhere. Nothing of note that I did during the Kargil War. Undeserving of that message but thank you for the kind words."
That is true. My unit had come down after a tough counter-insurgency tenure to a peace posting in Western India. And, I was on a long training course, when the Kargil War broke out. As no general mobilisation was ordered, the army continued with its routine activities elsewhere. A part of my unit moved closer to the International Border in the Western theatre as part of the regular operational deployment.
This was unlike what happened during Operation Parakram in 2001 (the military deployment after the terrorist attack on the Indian Parliament), when training courses were cancelled or suspended and people sent back to their units.
Getting back to that conversation, that friend is also relentless. "For years that you spent protecting the country", the reply came.
I ended the conversation with some polite words of thanks but, it set me thinking. It may not have happened during Operation Vijay, but I did see enough action in uniform. India in the 1990s was infested with insurgencies and the army was in the thick of them. The Line of Control with Pakistan was also active and the Pakistan Army had enough artillery shells, mortars or machine gun ammunition to remind you of every Indian wicket that Wasim Akram took, or every four that Saeed Anwar hit.
Friends died, in Kargil and elsewhere. Your own buddies lost limbs and eyesights. There were some close shaves where you survived just because you were lucky. A centimeter here and your leg would have been blown by a mine, or a minute longer, and the shell would have hit exactly where you were standing with a glass of tea in your hand. Is that bravery? Is that courage? I don't know.
Why did we do what we did? When we went out for an operation, it wasn't surely for protecting the idea of India. At least, not directly, or at the top of our minds. I can't speak of others, but, I and most of my friends didn't even know that there was a phrase called the Idea of India. I'm not sure that Sunil Khilnani hadn't written the book by then. That should absolve us of any blame of ignorance or illiteracy.
But one thing is certain. We did what we did out of a sense of duty. There was a sense of idealism which drove people to undertake acts which would otherwise get them medically certified as lunatics.
During the Kargil War, a young artillery officer had gone with an infantry column for attack. He was supposed to direct own artillery fire on the enemy soldiers. But the situation so arose that the two sides were in hand-to-hand combat and the enemy seemed to have the momentum. Seeing no way out, that officer gave his own position to direct his own artillery guns to bring fire upon himself. The tide of the battle turned with that crazy action and he was lucky to survive to tell the story. How does one even explain this?
Then there were other intangibles driving friends and colleagues. Words like pride, honour and camaraderie --- old-fashioned, which hold little meaning today outside the armed forces. Pride in self, pride in unit, pride in uniform, pride in being a professional, it all got reflected in various actions. Like pride, honour was something never stated explicitly but everyone understood it.
Much has been written about pride and honour, but little is understood of camaraderie. There would scarcely be a unit in the Indian Army where a bachelor officer hasn't volunteered to go for the most dangerous mission on his own because the other officer was married. It may sound ridiculous here, but truth is often stranger than fiction.
There were other mundane reasons for people to act. In one particularly amusing incident, a very dear friend, a young Second Lieutenant --- yes, we had that rank in those days ---was attached with divisional headquarters in an operational area for some staff duties. Staff duties meant he was office bound and was not going for operations. One day it so happened that two foreign terrorists occupied a building in the village close to the divisional headquarters. An encounter ensued and the building was on fire, but the terrorists were holding out as evening drew closer.
With a high probability that these terrorists will escape in the garb of darkness, the divisional commander was looking for ideas. This young Second Lieutenant suggested blowing up the house by placing explosives there. But then the question of who will do it in the terrorists' line of fire, and do it then itself? The young officer volunteered. And the scene was described by others present there. Firing on from both sides. A young officer lights the fuse on two packets of seven kgs of explosives each, runs amidst the hail of bullets, places the packets and runs back. Barely had he started running back, the bombs went off, building demolished, terrorists dead and bodies found in the rubble.
He was an officer from my unit. I met him the next day and asked what happened? His reply was unforgettable. "Sir, you guys have all the action here. Every day you are doing operations. [Expletive], I am caught there in office work. I was disgusted with the routine and had a drink too many at lunch. I didn't even know what I was volunteering for. I just wanted to be part of some action." How do you explain that?
Let me get back to the question which triggered these thoughts. Didn't we merely do what we were supposed to do? Do we deserve any special gratitude from the country? We surely can't ask for any special gratitude as a matter of right, but it is always nice to be appreciated. It would be even nicer if it goes beyond words of appreciation.
Our countrymen and women should comprehend that soldiers are not special but they do what they are supposed to do. If you do the right things, things will automatically go right. If each one of us can do what he or she is supposed to do---from the janitor keeping the street clean to the bureaucrat formulating national policies---that would be the real tribute to all the fallen soldiers of this great country.
As you look at the images of the War Memorial at Drass today, please make that pledge to yourself: to do what you are supposed to do. Happy Kargil Vijay Diwas, everyone!
The writer spent a better part of his youth in uniform and wishes to remain anonymous. (ANI)
J-K remembers local heroes of Kargil War
Politicians and civil society bodies today paid tributes to
Indian Army
soldiers who lost their lives during the 1999
Kargil
War.
As many as 69 soldiers from
Jammu and Kashmir
were martyred during the war and it was on this day in 1999 that Indian forces had announced the successful conclusion of Operation Vijay.
"Our brave soldiers laid down their lives protecting the country... They deserve a salute,"
BJP
National Executive Member Ashok Khajuria said at a function here.
Khajuria then slammed the
UPA
government at the Centre and the
National Conference
-led dispensation in the state saying that efforts by jawans and police fighting
Pakistan
-sponsored
terrorism
were not being properly recognised.
Bash On Regardless: A General Reminisces (IANS Book Review)
Book: Bash on Regardless; Author: Lt. Gen. W.A.G. Pinto, PVSM (retd); Self-published; Available from: Lt. Gen. W.A.G. Pinto, PVSM (retd), 1, Arun Khetrapal Marg (ex-Alexander Road) Ghorpuri, Pune 411001; Price: Rs 300.
This book comes from a prominent retired military-man, "one of our army's foremost battlefield commanders". We're told on the back cover: "Lieutenant General W.A.G. Pinto's experiences as a wartime divisional commander during the 1971 Indo-Pak war form the pivot of these memoirs...."
Pune-based Pinto served the Indian Army during the not-so-peaceful times of 1943 to 1982 and retired as the General Officer Commanding-in-Chief, Central Command.
At the start of the book, Pinto talks about his Goan connections. His father was from the Gustavo Pinto branch of the Pintos of Santa Cruz, Goa. Like all Goan migration stories this one too traverses many diverse parts of the globe and India too and is a mix of achievement elsewhere and a sense of loss back home.
Pinto writes: "In the distant past, one of my early ancestors was a Hindu of the Nayak caste or class. All the property from Campal, Santa Inez, Mira Mir, Gaspar Dias, Caranzalem, Donna Paula, Vanganim, Taleigaon, Santa Cruz, Bambolim was all his, a mighty fortune and also a misfortune. What happened to it all and how did it happen?"
We're told that a receipt for Rs.20 in those times shows his father sold his share of the Vanganim property to his brother.
"The starred Hotel Cidade-de-Goa on the high ground overlooking the beautiful lagoon is now located on the property," he writes.
Unusual too is the story of his father's lease of his share of the property called Mira Mar, where the estuary of the Mandovi river meets the Arabian Sea, "to a Portuguese gentleman who put up a hotel called Hotel Mira Mar". Turns out that the place later became notorious "as a house of ill repute".
When Field Marshal Sam Manekshaw, who spent his honeymoon there in Portuguese times, was at parties at which either of the Pinto brothers was present, "he always said that he was proud of his army; he had two Generals, both brothers, who were running a brothel in Goa"! (p.2)
Pinto complains about the loss of family property to "legalised land-grabbing", specially in the form of the law of "adverse possession".
He studied at Bangalore, Pune and Jabalpur, before the family settled at Pune, the "pensioners' paradise" in his parents' time in the 1950s. Summer meant holidays in Goa, the ancestral home at Santa Cruz, short excursions to the Calangute and Caranzalem beaches and the historic spots of Old Goa and Chandor.
But Pinto's story is primarily about the army. He takes us from his joining the World War II-time training at Lahore in pre-partitioned India. Those were times of the British Cadet Wing and Indian Infantry Divisions. War meant a compressed syllabus, and then fighting on the British side in Burma (now Myanmar) and Siam (today's Thailand) and even an occasional love story en route.
India and (the 1947) partition follows in the story. But not before a Carnival-time visit to Goa, where he says at his "aunt's insistence" he requested the governor general's wife for a dance (p.21)!
Pinto goes up through the Indian Army ranks, then in the process of being handed over from the British or being set up in independent India, not without its colonial legacy - Shillong and the Wellington Staff College, et al.
But the heart of the story is Pinto's narration of the 1971 war with Pakistan that led to the creation of the independent nation of Bangladesh and his role in it. Pinto, then a major general, is widely known as the Hero of Basantar for leading the 54 Infantry Division in what is perhaps the greatest land battle fought by the Indian Army.
Pinto is credited with finding enemy soldiers ensconced across the Basantar river (a tributary of the Ravi river that is in Punjab, risking a night crossing and attacking from behind. This daring plan paid off on the morning of Dec 16, 1971.
Pinto vividly recalls the effort of 2nd Lieutenant Arun Khetrapal, commissioned only a few months earlier, who destroyed five to six Pakistani tanks before being killed in battle. Khetrapal was awarded a posthumous Param Vir Chakra, India's highest gallantry award, and it is only appropriate that Pinto should be living on the road after him in Pune.
In times when military-linked controversies - and even corruption - makes it to the news, how one relates a story of this kind depends on one's own understanding of the man and his times. One could see those were more disciplined and less politicised times.
Pinto concludes with a chapter titled 'Sunset and Twilight', which talks about his retirement in Pune, and travels to visit family and friends abroad.
(Frederick Noronha can be contacted at fredericknoronha@gmail.com)
Defamation case: Army ex-chief VK Singh to appear in court today
New Delhi:
Former Army Chief VK Singh will appear in court on Saturday regarding the defamation case that was filed against him by Lt Gen Tejinder Singh and four other senior serving Army officers. A city court had issued a bailable warrant against him earlier when he failed to appear in one of the hearings.

General Singh had claimed that Lt Gen Tejinder Singh, who retired as chief of Defence Intelligence Agency in July 2010, made a Rs 14 crore bribe offer to him when he was the Chief of Army Staff for the Tatra truck deal. CBI sources had said that gate pass and entry records were not enough to prove bribery charges.

General Singh had made the allegations in the middle of a bitter age battle with the government. He had claimed that he was offered a Rs 14 crore bribe in September 2010 to clear the purchase of a tranche of 1,676 Tatra trucks for the Indian Army.
The defamation case was filed against Singh by Lt Gen Tejinder Singh and four other senior serving Army officers.
The Lieutenant General had refuted the allegations and also slapped a defamation case against General Singh.
Delhi High Court PR Wire | India News Political Bureau
,
New Delhi, Saturday July 27, 2013, 18:16 PM (IST)
Delhi Metropolitan Magistrate Jay Thareja told former Army Chief V.K. Singh's counsel Vishwajeet Singh today, "Don't tell me if I should recuse nyself or not. ... Just because I do not say anything or don't put my foot down on the matter, it does not mean that you can take me for granted by taking advantage of my leniency

".
The court also heard advocate Anil Aggarwal, appearing for complainant Lt Gen (Retd) Tejinder Singh, who moved two applications seeking cancellation of bail granted to V.K. Singh and cancellation of exemption granted to other four persons, against whom he had filed the defamation case.
Tejinder Singh had filed a criminal defamation case against V.K. Singh, Vice Chief of Army S.K. Singh, Lt Gen B.S. Thakur (Director General of Military Intelligence), Major General S.L. Narsimhan (Additional Director General of Public Information) and Colonel Hiten Sawhney.
The court said that it would take up all matters, including Gen. Singh's pleas for personal exemption on 21 August.
The former army chief had said he was offered a kickback of Rs.14 crore by a retired defence officer in exchange for clearing a tranche of 600 sub-standard vehicles.
Denying the allegations put out by army headquarters, Lt. Gen. Tejinder Singh who had headed the Defence Intelligence Agency said the army headquarters press release of March 5 which publicly accused him and a group of serving officers of the Military Intelligence (MI) was a "fabricated fiction" to create a rift between the army chief and the government, in addition to being defamatory and libelous.
Indian Army Warriors who Define Courage
Bangalore: Every man and woman in uniforms is the true hero of the nation. They put their life at stake day-in and day-out to safe guard the sovereignty of our country and are even prepared to sacrifice their lives so that their fellow countrymen can lead a happy and peaceful life.
Let us remember the acts of a few courageous men in uniforms who made their country and countrymen proud by their bravery, as listed by Amr of Boydom.com and other sources.
Major Ramaswamy Parameswaran
Born on 13 September 1946, Ramaswamy Parameswaran, was a major in the Mahar Regiment of the Indian Army. He took part in a numerous operations carried out by the Indian Army and was awarded the Param Vir Chakra, the highest wartime gallantry medal, for his bravery.
On 25 November 1987, while participating in the operation Pawan, which was intended to take control of Jaffna from LTTE in Sri Lanka, Major Ramaswamy Parameswaran and his men were ambushed by a group of militants. Unfazed by the incident, he kept his cool and encircled the militants from the rear and finally charged into them, taking the militants by complete surprise. During the hand-to-hand combat, a militant took his gun and shot the Major in the chest. But with an undaunting sprit, Parameswaran carried on fighting and managed to snatch the rifle from the militant and shot him dead. Fatally wounded, the brave Major continued to give orders to his men and inspired them till his last breath.
Ferozepur, July 27
The Golden Arrow Division of the Indian Army paid tributes to the soldiers, who had laid down their lives in the Kargil War, on Vijay Diwas
Several events were organised to mark the fourteenth anniversary of the war. Earlier, the GOC, Golden Arrow Division, laid a wreath at Barki Memorial to pay tribute to the heroes of the Kargil War. The function was also attended by senior officials of civil administration and war veterans. Kargil Diwas Mela was also organised in the cantonment to showcase the heroism of the soldiers who fought in the Himalayas.
Infantry and Artillery equipment was put on display and thousands of schoolchildren attended the event.
Drass (Kargil), July 27
The Army is contemplating to celebrate Kargil Vijay Diwas (victory day) in a grand way after a five-year gap to avoid making the event monotonous and maintain a good attendance of people at the gala celebrations.
Sources said the Army local formations had requested the higher ups to observe Kargil Vijay Diwas after every five years instead of every year. This year, the celebrations were also muted and there was almost no participation of locals at the two-day function which was held to commemorate the 14th anniversary of Kargil Vijay Diwas, the day the Army won back all peaks from Pakistan in the Kargil region.
"This year the celebrations were scaled down. It will be logical now that we hold the function may be every five years. Former Army commanders, families of the soldiers who laid down their lives, war widows and Bollywood celebrities could be invited to celebrate the day in a grand way," said a senior Army officer here.
"As per our idea, the local formations can hold the Vijay Diwas celebrations at Kargil War Memorial in Drass every year to pay our homage to the martyrs and remember the contribution of the units and the formations which gave India its finest victory in recent times," he said.
This year no Bollywood celebrity attended the victory day celebrations. Last year, actress Neha Dupia, musician Shankar Mahadevan entertained the soldiers. There was no polo match at the Polo ground here, which was heavily shelled by the Pakistani artillery during the 1999 Kargil war. The motorcycle show by the Army's 'Tornadoes' team was also not held. This hinted that the Army has started scaling down the celebrations.
Local residents, too, said it was for the first time since the Kargil war victory that Vijay Diwas was such a low-key affair this year.
"The function was not as impressive as it used to be," said Ghulam Hassan, a local resident.
Udhampur-based spokesman of the Northern Command Col Rajesh Kalia, however, said he had no information about the plans to scale down the Kargil Vijay Diwas function.
"No such proposal has gone from this side to the Army headquarters," the spokesman said.
In 1999, Pakistani soldiers and militants had occupied many peaks from Drass to the Batalik sector along the Line of Control, overlooking the strategic Srinagar-Leh highway during the winter retreat of the Indian Army.
The Army along with the Indian Air Force later launched a massive operation to reclaim the peaks that were occupied by Pakistani soldiers. In the ensuing battles that were fought in the rugged mountainous terrains and hostile climatic conditions, the Army managed to win back its territory after a 74-day battle. And since then, the Army has been observing July 26 as Vijay Diwas and the main function is held at Drass.
After the rain, the shine: Candlelight tribute from Tricity
On the 14th anniversary of Kargil War, Vijay Diwas was celebrated in the city on Friday evening, with hundreds of people gathering at the War Memorial to pay candlelight tribute to the martyrs who sacrificed their lives for the nation.
Though it started raining just before the ceremony, even heavy downpour could not damp down the spirit of patriotism, as people from all walks of life came all the way to pay tribute. There were hundreds of children from DAV Sr Sec School Sector 8, YPS Mohali, DAV Sr Sec School, Sector 15, and officers from defence and administration and war widows who came along with their family members.
While paying tribute to the martyrs, Major General Vishwambhar Singh, Chief Engineer, Western Command, said, "Being a soldier, I feel very happy when such events are organised. This shows the country recognises sacrifices of the Army. A soldier gives his entire life to a nation and expects nothing in return, but little respect. Today, people from Tricity are here to do that only — pay respect."
Brig Sanjeev Saini, Western Command, said this was a day of victory, as on this day in 1999, the Indian Army had evicted Pakistan's soldiers from "our land". "The day is a matter of recognition, especially for a nation," he added.
Air Marshal, Randhir Singh (retd), PVSM, AVSM, VC, said: "I appreciate the efforts of Indian Express, which has done a great job. We need such leadership in the country, which can remind the nation about the sacrifices of Indian soldiers."
K K Sharma, adviser to the UT Administrator, said, "The War Memorial is a symbol of the supreme sacrifices of our soldiers. It makes one reflect on the valour of the bravehearts."
While paying tribute to martyrs, Home Secretary Anil Kumar said, "On Kargil Vijay Diwas, we salute the martyrs who laid down their lives for the sake of the country. Their sacrifices will always be remembered."
India, China trying to develop mechanism to prevent face-offs: Antony
India and China are trying to develop effective mechanisms to prevent the "embarrassing" face-offs between their troops along the "disputed" points of the Line of Actual Control, Defence Minister A K Antony said in the national capital on Friday.
Terming the 21-day stand-off between the two sides in Depsang valley in Daulat Beg Oldi area as an "unusual" incident, the Defence Minister said the two countries would meet soon in Beijing to discuss issues and try to find a solution for such "unpleasant incidents".
"Till the final settlement of the border issue, we are trying to find out more effective mechanisms to prevent occasional incidents. There are many points in the LAC that are disputed and they are patrolled by both sides. So, sometimes it leads to some face-off," he told reporters on the 14th anniversary of Kargil Vijay Diwas.
The Minister was asked to comment on the rising incursions by the Chinese troops into the Indian territory along the LAC in Ladakh and Northeastern sectors.
Antony said, "There are disputed points where both sides are going there which sometimes causes some embarrassing situations."
He said after the Depsang incident in April, India and China had "free and frank" talks and "we are trying to have more border personnel meeting places and have more effective mechanisms to prevent such unpleasant incidents."
"On the one side, both sides are trying to find a long term solution to the long pending border dispute. Till that time, our aim is to maintain peace and tranquillity at the border," Antony said.
On the recent third meeting of the Joint Working Group between the two sides, the Minister said free and frank discussions were held.
"We are going to have another round of this meeting in Beijing soon on this issue. So, I think we will be able to find out a solutions to such unpleasant incidents on the border," he said.
Blocking of mails
On Jul 24, my email addressed to the following did not go through and I kept getting Unable to deliver message. After making a few attempts that evening and next morning and not knowing what the problem was, I sent it to friends to forward it to the Environment. I also found out that I could not access any of the IESM and veteran sites. The same has happened last evening when I wanted to send another email to these mailing lists. Someone who controls these lists and veteran sites is obviously playing some cheap game with me without showing even the normal courtsey of informing me that I have been removed from these lists and sites. Even the fact that GB has taken action against me yesterday I learnt through a friend. One would suppose that since I am the most affected person, I should have been the first to be informed. I object to this underhand game. These sites are no one's personal property and belong to all veterans.
I request an explanation for this kind of action to keep me in the dark and prevent me from communicating with other veterans, when the same is being used to malign me behind my back. Please restore my access to all veteran sites and re-add my name to the mailing lists as it was a few days ago.
India's ex-servicmens apex body IESM splits over corruption charges
IESM GOVERNING BODY TERMINATES THE PRIMARY MEMBERSHIP OF LT GEN RAJ KADYAN
I
ndia's Ex-Service Men's apex body (

IESM

) has split over corruption charges with bitter emails being exchanged from all sides.
2 emails circulated from its blog and by its General Secretary are reproduced below to show the extent of the divide:
I am deeply pained to circulate the email below, received from Gp Capt VK Gandhi, Secretary General IESM.
However, the action taken by the IESM Governing Body is correct and it should have been taken long time ago.
Governing Body IESM continued to persuade Lt Gen Kadyan to mend his ways but, due to his ulterior motives and some carrot hanging somewhere, he continued on the course adopted by him to destroy IESM.
Five years ago Lt Gen Raj Kadyan and Maj Gen Satbir Singh with increasingly very large support from ESM located from North to South of India from East to West of India, started IESM with great josh and efforts. Rightly, within six months of its raising IESM became a force to reckon.
While many other ESM organisation have been working hard and are still working hard to resolve problems of ESM and families, but the approach adopted by IESM made greater success in a short time.
The UPA Government became visibly scared of the ways of operations of IESM. Many requests, directly and indirectly came to IESM saying don't do this or that – IESM carried on fearlessly.
UPA Government has been looking for ways and means to destroy IESM as it destroyed many other movements. IESM leadership stood firmly against such attempts till one of its stalwarts saw some very attractive carrot hanging in front of him. This happened about two years ago.
For over two years I have been receiving very reliable information from many sources that Kadyan has been given a specific task to achieve. His behaviour in the IESM Governing Meetings was also confirming those inputs. I warned many senior members of IESM about it – but they would not believe me.
The true colours of Lt Gen Raj Kadyan became apparent to the Governing Body IESM in Dec 2012. The story beyond Dec 2012 has been well related by Gp Capt Gandhi in his email below.
Kadyan is playing very dirty trick of creating a divide among the officers, JCOs and OR among the ESM and families with a view to destroy their joint power to fight against injustice by the UPA Government and thus quickly reach the carrot hanging in front of him.
I am very sure that with the expulsion of Lt Gen Kadyan major hurdles in the way of IESM are out. IESM have the will power and resources and with help from you all – IESM will be able to come over the hurdles that Kadyan will now openly generate to ensure that he receives the carrot promised to him by highly placed personalities.
A sad day in the history of ESM and families of India.
Please remember with support from you ALL, IESM will regain its lost ground. So go all out to support IESM.
In service of Indian Military Veterans & Families
By now you must be aware that all is not well in IESM. It is my duty to keep facts in front of all members so that members can make their own opinion. At the outset I ask for your patience for a bit long mail but I cannot help since I want to bring all facts in-front of veterans
IESM has been in operation since last five years. The accounts of IESM had been regularly audited and presented to all veterans every year in AGM. All queries raised by veterans are answered satisfactorily. Lt Gen Raj Kadyan had been signing the balance sheet for the last five years and had never raised any objection. Monthly income and expenditure statements are being made as per rules and are available in the office for all to check. Lt Gen Raj Kadyan had access to all accounts as all other members of GB and all members of IESM. GB IESM invites all veterans to come and check the accounts which are available in the office. GB had not agreed to put the accounts on the website as demanded by Lt Gen Raj Kadyan as GB felt that Internet is not a safe medium such sensitive information. Any constructive suggestion would be taken and incorporated in the accounting procedure. Yes IESM Gov Body had refused to pay the transportation charges of veterans who came from Jhajjhar for casting their votes and attending the AGM on 2 Dec 2012, as it is against the rules of the AGM and elections. This has probably infuriated Lt Gen Raj Kadyan because he had to pay Rs 18000/ from his pocket to these veterans who were called by him to vote for him and his candidates. Accounts of IESM are being kept as per rules and will be projected for scrutiny of all members in coming AGM planned on 20 Oct 2013 at AVCC Sector 37 Noida.
The problem in IESM started about two years back when members of GB pointed out to the Lt Gen Raj Kadyan that he had been visiting Defense Minister all alone and then issuing Sitreps to the environment. GB members advised Lt Gen Raj Kadyan on many occasions that it must be delegation of IESM who should meet the RM and other officials to present the problems of veterans. Lt Gen Raj Kadyan refused this simple request and termed those meeting as his personal meetings and confirmed that he meets RM for many problems and also discusses the IESM issues and he would continue meeting him alone. We all know the outcome of these meetings! I can say with conviction that veterans and widows were not benefited in any way. But he continued visiting RM by himself and kept mentioning it in Sitreps. This issue was considered too insignificant to bring to the notice of environment. However GB members communicated their opposition to the stand of Lt Gen Kadyan. Veterans noticed the slant towards praise of the Govt in Sitreps in last few months and discussed with GB members. Many veterans expressed their apprehensions that this change in the outlook of Sitreps is not a healthy sign for our fight for Justice and OROP.
GB members had been discussing in meetings that IESM delegation must meet three the chiefs of armed forces and explain to them problems of veterans so that Armed Force HQs understand our problems and veterans would know the stand of HQs on veterans' issues. Lt Gen Kadyan kept steam rolling this suggestion and refused to meet the three Chiefs. Then, suddenly one day he informed the GB that he had met the CNS. GB members questioned about this visit and asked why did he visit CNS alone? He had no reply and gave flimsy reasons that there was no time to inform any GB member.
Sometimes in April 12 Army HQs informed Maj Gen Satbir Singh, Vice Chairman IESM, that a rally of veterans has been organized in village Palra in Jhajjhar dist on 16 May 12. COAS Gen VK Singh would address the veterans in the rally. The issue was discussed by the GB and a decision was taken that IESM will wholeheartedly only take part in the rally and would ensure a very large gathering for the rally. To the utter surprise of GB, Lt Gen Kadyan vehemently opposed participation of IESM and veterans in the rally. GB members over-ruled (single dissention) his objection and decided that IESM will lend full support to the rally as this rally would bring many- fold advantages to the veterans. Veterans would get a chance to meet COAS and explain their problems first hand and, veterans would get to sort out their pension problems and ECHS problems as Army HQs had arranged all specialists to attend to the problems of veterans, Lt Gen Raj Kadyan continued opposing IESM participation and even published in newspapers and asked veterans to boycott the rally. Lt Gen Kadyan even gave statements against the then COAS Gen VK Singh that he was using this rally to build up his image. This statement of Lt Gen Kadyan against Gen VK Singh was shocking and to say the least vey shameful. He went a step ahead and threatened GB members that he would not sanction any funds for the rally. It was surprising to hear this from the Chairman. IESM did not spend any funds on this rally. The rally was a huge success and veterans were a happy lot to mingle with the brother soldiers and felt elated. Many veterans could resolve their pension problems as CDA officials were present to provide instant replies. On the day of the rally, Lt Gen Raj Kadyan suddenly decided to attend the rally and insisted that he would speak on behalf of IESM. Army authorities had by then sensed the real intent of Lt Gen Raj Kadyan that he would use his position and create disturbance in the rally. He was not permit him to speak. Later on it was revealed that intelligence inputs had indicated that Lt Gen Raj Kadyan came to malign the rally and speak against the then COAS Gen VK Singh. It was not difficult to put the two and two together of his real intent. Lt Gen Raj Kadyan was well known to speak against Gen VK Singh in every TV interview and used all his vocabulary to speak against Gen VK Singh. He was using his position to make a constituency for himself and make his image on the TV shows.
GB members smelled the rat and advised Lt Gen Raj Kadyan to avoid misusing his position but he did not heed to the advice. Even the 'MOA' of IESM clearly lays down that decision in the GB meetings will be taken by 'Majority' view. Lt Gen Raj Kadyan continued disregarding the majority decision of the GB. Many a times it was pointed out in GB meeting and decision taken by GB was recorded that decision taken by GB would be final and all must abide by the decision. His continuous disregard and willful defiance of GB decisions had started troubling GB members.
IESM announced a grand rally on 1 Dec 2012 and AGM and election to GB on 2 December 12. The rally was attended by more than 5000 veterans from 14 states. Many speakers expressed their views. Vice Chairman spoke about the achievements and future plans of IESM. It was surprising to hear Chairman Lt Gen Raj Kadyan speak against the official thinking of the IESM to the audience. The issues brought out by Lt Gen Raj Kadyan surprised all and brought out the differences in the GB in open. Surprisingly Lt Gen Raj Kadyan did not deem it necessary to discuss the issues with GB members before bringing it out in public glare thus lowering the image of IESM in the eyes of veterans.
Brig OP Marwaha and Col VK Sekhri were requested to conduct the election of IESM GB planned for 2 Dec 12. The team had conducted the previous elections of IESM in 2010 and were regarded very fair in conducting elections. 24 nomination papers were received by the election team (Five for the appointments in GB and 19 for the post of member GB). Election team found mistakes in many forms and approved only 11 nomination forms for the post of member GB. Lt Gen Raj Kadyan met Chief election Officer and attempted to influence him in favor of four contestants. Chief Election Officer confirmed to him that he would conduct the elections as per rules of Election Commission and prevalent traditions. The results were announced as the approved nomination papers were less than the vacancies in the GB. Lt Gen Raj Kadyan announced to the audience that he was not in agreement with the elections and he suggested re-elections thus creating disturbance in the meeting. He also once again touched upon the issues which had till then not been discussed in the GB. Lt Gen Kadyan thus once again brought the differences in the GB to the public without even discussing in the GB. Four contestants whose nomination papers were rejected by the Chief Election Officer then sent representation to the Registrar Societies, Haryana Chandigarh. The Registrar Societies had fixed 4 Apr 12 as date of hearing. Chairman Lt Gen Raj Kadyan and Gen Sec Gp Capt VK Gandhi were respondents in the complaint. Governing Body IESM took a decision that the IESM would be represented by Maj Gen AJB Jaini, Gp Capt VK Gandhi and Cdr SS Ahuja and no other member will attend the hearing on 4 Apr 12 from IESM. This decision was communicated to Lt Gen Raj Kadyan who had not attended the meeting in which this decision was taken. He not only attended the hearing, against the resolution of GB, but also argued in favor of the petitioners. This action on part of Lt Gen Raj Kadyan brought in open his plan to induct some members who would take his side in GB meetings and he would be able to get his views through the GB. This is for the information of veterans that Gov Body had sensed a tilt in favor of Govt in the behavior of Lt Gen Raj Kadyan. GB members were therefore very critical of his suggestions and most of his suggestions were over-ruled with only one vote in favor of his suggestion and rest voting against his opinion. This is probably the reason that Lt Gen Kadyan wanted to fill the GB with his YES men but failed because of mistakes on the part of his men in filling the forms. Director Societies in his order has asked IESM to amend the MOA and increase strength of GB members from present 17 to 21 with a view to accommodate the four complainants. IESM has already formed a committee to amend the MOA and is planning to bring the amendments in the forthcoming AGM.
Lt Gen Kadyan has now called for Emergency General Meeting (EGM) on 28 July 12 without discussing the matter in the GB. There is no provision in the MOA of the IESM for Chairman to call for an EGM. IESM had already planned the AGM on 20 Oct 12 and is in the process of announcing to the environment. It is therefore difficult to understand the urgency of the EGM when regular AGM has already been planned on 20 Oct unless there is an ulterior motive of forcibly taking over control of GB. It is not difficult to notice the powers working behind this move. IESM has become a thorn in the eyes of Govt because Govt has not done justice with the veterans. This is the only to put brakes on the activities of IESM. Therefore, this meeting has been declared illegal by IESM.
In view of constant defiance of GB decisions by Lt Gen Kadyan, and specially attending the hearing in the office of The Registrar Societies on 4 April 12 totally against the resolution of GB, Lt Gen Raj Kadyan was asked in writing on 25 April the reasons for his defiance of GB decision and asked to reply by 1 May 12. He replied that he would send his reply by 7 May 12. His reply was not received by the due date. He was then issued a Show Cause Notice on 15 July and was asked to send his justification latest by 25 July 12. Once again the reply has not been received by the due date. In-spite of coming clean and giving justification of his anti IESM action, he has decided to confront the GB and MOA and has announced an EGM with the help of disgruntled veterans. He is also attempting to create a rift in officers, JCOs and ORs where in-fact there is none. There is one important question which every veteran is asking, "How much veterans have befitted from his friendship with the Defence Minister? The answer probably is that NIL. Pension of widows also could not be increased with his clout.
Governing Body of IESM met on 25 July 12 and deliberated on this situation and came to the conclusion that Lt Gen Raj Kadyan has no justification for his action against the collective will of GB. He has been constantly acting against the majority decision of GB. Because of constant defiance of GB and lowering the image of IESM by Lt Gen Raj Kadyan, his primary membership of IESM has been terminated by the GB under the powers vested in GB under clause 7 (d) (vi) of MOA. His primary membership of IESM has been terminated with immediate effect.
This is a very sad decision that primary membership of the erstwhile Chairman had to be terminated because of his constant actions against the majority decisions of the Governing Body and acting against the interest of IESM.

Gp Capt VK Gandhi VSM
Gen Sec IESM
L - 48, Sector - 25,
NOIDA. 201301
Tele no 01204313951
Mobile 09810541222
Navy sex scandal case: Complainant arrested for alleged forgery
The woman, whose complaint of wife swapping rocked the naval base in Kochi in April, was today arrested by Delhi Police for allegedly committing a forgery in procuring a credit card in the name of her estranged husband.
Police arrested Sujata Sahoo from her residence in South Delhi under section 420 (cheating), 468 and 471 (forgery) and Emblem and Name (Prevention of Improper Use) Act, Delhi Police spokesman said.
Kamini Jaiswal, counsel for Ms Sahoo in the wife swapping case, has denied the charges and said it was an attempt to malign her client and accused the Delhi Police of torturing Ms Sahoo.
Ms Jaiswal claimed that her client was dragged from her house and beaten. "As a result of this, she has received injuries and the police has not been ensuring a proper medical check up," Ms Jaiswal alleged.
She said that her client had been informing her about the repeated threats received by her and warnings of dire consequences if she did not withdraw her complaint in which she has named senior naval officials.
According to Delhi Police, Ms Sahoo, 25, was arrested from Jia Sarai after State Bank of India's IIT branch complained that she was trying to procure a credit card in the name of her estranged husband, Ravi Kant, using his forged Pan card and employment letter of the Indian Navy.
The bank, according to the Delhi Police, has videographed everything pertaining to the alleged procurement of the credit card.
Defence Minister AK Antony had promised to take strong action if anybody was found guilty in the alleged Kochi wife swapping case.
She had also filed a case of dowry harassment under Section 489A against her husband and the case has been transferred to Kochi.